PRESBYTERIAN VILLAGE NORTH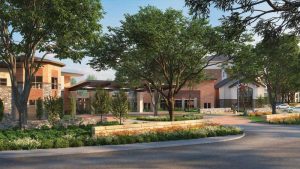 This 40-year-old, 20-ha (50-acre), park-like senior community in North Dallas, Texas, has received several updates and expansions by multiple architects since it opened, resulting in an incongruent mix of architectural styles. For the current planned expansion and reimagining, the project team is working on a design concept that will reunify the property's many structures aesthetically, while reconfiguring and updating the core common areas and amenities, and adding a new independent living building that will replace a number of outdated residential units.
To unify the campus architecturally, the design concept will demolish smaller residences now considered obsolete and replace them with a major state-of-the-art residential addition connected to a newly renovated 2787-m2 (30,000-sf) commons building at the core of the community. The reconfiguration of the drive approach and building entrance is elementary to the master plan of improvements. Ironically, implementing this brand vision will require partial demolition of an entrance tower feature originally designed 20 years ago, as part of a previous expansion. The improvements will unify the overall aesthetic and improve wayfinding significantly, so the loss of the tower feature was considered objectively and without sentimentality by the architects.
"The goal is a well-thought-out experience and environment to support the residents' lifestyle," says CEO Tim Mallad, "with an aesthetic that provides a subtle 'wow' factor, a place that is livable and also feels good to live in."
To support this goal, the architects focused on interventions that will deliver the desired experience within the requirements for high-performance operational efficiencies. The design will draw residents and visitors through sequences that unfold ever-widening vistas, making the most of the natural beauty of the trees and water course on campus—features retirees who are considering the greater Dallas Metroplex are drawn to.
"We worked closely with the architects on the 'character profile' we wanted for our residents. The planning and design process were fully engaged and we, the client, were encouraged to be creative," adds Mallad.
With the addition of revenue-generating units to the overall community income stream, consideration can be given to underwriting the renovation of worn-out common spaces or older and more institutional healthcare environments. This opportunity responds directly to the demand ("what are you going to do for me?") of existing residents, while they endure the turbulence of a construction project in their midst. Ultimately, the improved amenities and up-scaled healthcare solutions are a welcome enhancement to the residence of choice.
Opportunities to contemporize finishes and modernize appliances and fixtures, while attending to the installation of universal design elements at showers, sinks, and doorways are all low-hanging fruits, but require strategic planning and logistical forethought to gain resident satisfaction. Infrastructure improvements attending to low water pressure, insufficient Wi-Fi capacity, or poor air quality can be considered during this season of rebirth.
Lighting, for example, is vital to crafting the right mood. In living units, floor plans are more open, often with taller ceilings, extra daylight, and generous windows connecting residents to the outdoors. Color, texture, and acoustics enhance the senior's world of diminishing capacities, weaving positive and stimulating experiences. Material and daylighting can help seniors with recognition, wayfinding, wellness, and safety.
Subordinate projects can include the adding and diversifying of dining options, expanding entertainment venues, and enhancing wellness components. These integrated improvements are driven by the personal compulsion of existing building occupants and community leadership.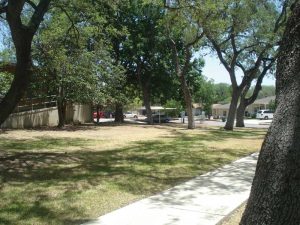 Any rebranding or renovation effort should begin with the recognition and commitment to 'change for the better,' while recognizing the risks involved. Defining plan and communicating the vision are paramount to shareholder buy-in. Working the plan and incorporating checks and balances with contingency alternatives has proven to lead to successful and sustainable outcomes.
Process and pragmatism
Residential care projects are complicated right from the beginning, requiring full-time attention to move the growing demand of decision-making forward in a pragmatic and linear process. The decision input is intentionally diverse and specialized to craft a design and final product that is tailored to the prospective resident's lifestyle expectations.
Despite all the process planning and stewardship, expert leadership will also recognize the need to modify the ongoing process to adjust for changing parameters brought on through external forces such as market demand and construction costs. Unlike acute-care settings, where the goal is for patients to recover and leave the facility as soon as possible, residential settings including ALFs, skilled-nursing facilities (SNFs), and continuing-care retirement communities (CCRCs), the design must speak to and allow for the highest-quality care possible over the longest time needed. Senior residents may need different kinds of care, but all of them seek real comforts, enriching experiences, supportive communities, and a real sense of empowerment and independence.
These desires reinforce the trend toward more hospitality-focused designs. Places designed for hospitality have a reputation for transcending generational differences, and that holds true even when developing housing for seniors. The thinking behind this strategy is people come back to places that feel grand, comfortable, and unique, has a pleasant ambience, and provides a good experience. This is why many successful senior living settings present a series of 'wow' moments within each project informing and connecting the residential and service spaces.
Using the luxury-hotel-as-housing model makes senior residents feel more positive and engaged, and also attracts younger consumers to the developments—a win, win.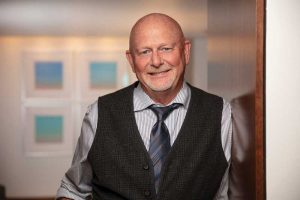 Rockland Berg, AIA, is founding partner of three, an architecture practice headquartered in Dallas, Texas. Involved in senior living architecture for more than two decades, Berg is well-known throughout the market and speaks frequently on developing trends, including on NBC Nightly News. He can be reached at berg@threearch.com.