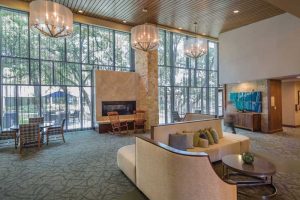 These findings optimize architectural and interior design choices, not just care provision. Programming of the memory-care renovations, for example, often follows a pod-based design grouping of 10 to 16 residents in secure, partitioned zones with ample views of nature and the outdoors. Rather than connected by corridors, all shared spaces are open to each other to result in simple circulation pathways ideal for dementia patients.
Access and egress
How residents enter and exit communities and how they experience the indoors and outdoors are central to an enriching, enjoyable living experience. Looking again at minimum requirements, entries today have detailed flooring transitions and materials allowing for ease of movement on foot, with a walker, and by wheelchair. Automatic doors with motion sensors and easily operable, lever-style hardware, where needed, are baseline specifications for public and common areas. Each residential unit should also provide universal access and function.
In most states, the use of the International Building Code (IBC) mandates that for residences up to a certain height, "All units must have an escape window that opens directly onto a public street or alley, yard, or exit court." Security and life safety are foremost in planning for additions and expansions.
Security is essential to successful communities and often run counter to the desired lifestyle experience or hospitality-inspired amenities. Unobtrusive perimeter detection, access control systems, and closed-circuit monitoring are among the typical approaches to protect residents and caregivers, while conferring a sense of freedom and openness. Along those lines, comfortable access to proximate amenities and shared community spaces is appreciated by residents, who benefit from minimized grade changes and adjacencies that reduce walking.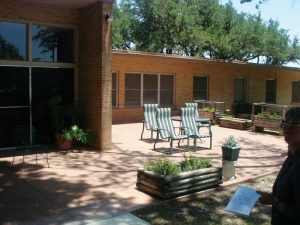 For specialized memory-care settings, many owner-operators prefer designs maximizing the availability of windows and outdoor views. With this in mind, those wings or pods are planned without double-loaded corridors, allowing more windows and presenting residents with enhanced visual connections to the outdoors, trees, and gardens. On the other hand, studies show when dementia patients see views of exit paths or destinations they may try to leave
the premises—called elopement in the caregiver's parlance—so it helps to obscure exit doors, gates, and parking lots. Additionally, lighting systems and solar shading materials can be employed for the clinical purpose of reducing instances of sundown syndrome, or sundowning, which the Mayo Clinic (an academic medical center in Rochester, Minnesota) describes as a "state of confusion occurring in the late afternoon and spanning into the night [including] anxiety, aggression, or ignoring directions." Low lighting levels and increased shadows contribute to the effects.
Diverse offerings
Another element of renovating existing senior communities highlights the need to achieve balance throughout the campuses or complexes. For example, constructing additions and improvements that add real contemporary value to the community may also necessitate a campaign of strategic improvements and upgrades to bring the rest of the community up to date. Additionally, some owner-operators add high-revenue product where possible to not only increase income, but also to support the needed improvements and additions.
Related to that idea, when adding new residences to a community, it is appropriate to consider a strategy to upgrade the existing units to create consistency of brand and avoid an 'us versus them' environment. This needs to be a thoughtfully conceived plan that can occur even before the primary project begins construction, signaling goodwill and conviction to the future posture of the community.
Many of the senior living and care communities operating today were conceived in the 1950s, 1960s, and 1970s. Several of them have undergone modernizations—typically the periodic refreshing of product and retrofits of building systems—that are likely to be structurally and operationally outdated. Many are inefficient and inappropriate for today's residents and their families.
Even communities built during the 2006 recession, now over 10 years old, suffered from the insecurities of the season, with many unable to realize their full vision during the fragile market conditions. Many of those owner-operators are now reassessing today's market opportunities, drafting plans to bolster revenue strength and resident vitality, while addressing the larger amenity and healthcare needs of their communities. This regrouping also offers a chance to rebrand and re-message to the coming wave of baby boomers, who are considering simplifying and refocusing their lifestyle aspirations.
This requires resisting the convenience of following a formula, but instead to consider a true hospitality model to retain and attract lifestyle-seeking residents. While the focus of this dialogue is through the eyes of an experienced architect, the big moves before any design discussions should consider the neighborhood's appetite for change and growth, the surrounding communities and their demand for additional supply, and the pragmatic diagramming for sound business success and risk mitigation.