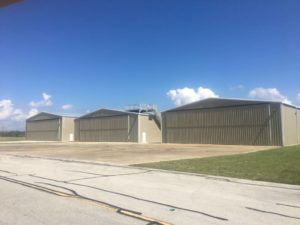 Pilots housing airplanes at the Aransas County Airport in Rockport, Texas, are grateful for the bifold doors on the hangars. Earlier this summer, this small gulf town, located 48 km (30 mi) north of Corpus Christi, faced Category 4 winds for more than 13 hours when Hurricane Harvey wreaked havoc in the Lone Star State.
The airport lost seven buildings for a total of 8360 m2 (90,000 sf) of hangar space. Fifteen airplanes were destroyed and 22 more damaged in the storm. However, hangars with bifold doors were still standing after the hurricane passed.
"It was like having a 747 with parking brakes on at full throttle just outside the door. It was incredibly loud. The Category 4 part sat on us for five hours. The wind came directly out of the north for two hours and then directly out of the south for two hours; we were right in the middle of the hurricane," recounted Mike Geer, the airport's manager. "In fact, it took the eye over an hour to pass over. I have learned since that there were multiple F-5 tornadoes inside the eyewall."
Two of the largest bifold liftstrap doors on box hangars at the airport are 18 x 5 m (60 x 17 ft). The airport also installed eight bifold doors—measuring 13 x 4 m (43 x 14 ft)—on T-hangars. Doors measuring 18 x 10 m (60 x 35 ft) have been employed on 650-m2 (7000-sf) hangars that are large enough to handle at least a 14- x 4-m (46- x 14-ft) aircraft. On the large box hangars, Geer said one wing nut came off a plexiglass window but the exterior cladding stayed intact.
Bifold doors are ideal for hangars as they lift straight upward while a hydraulic one-piece door lifts outward. Both can be suitable, but bifold is particularly ideal in cold regions as one does not have to clear snow before opening it. It also allows pilots to park closer to the hangar. When opening, there is no danger of clipping a plane or vehicles parked outside the door. These doors can be clad with glass, wood, or steel to enhance the exterior.
There is also no loss of headroom unlike a rollup door. One does not need to build a bigger hangar to accommodate a bigger plane. Sliding doors have a tendency to get dirt and debris caught in the tracks and hard to open when plugged with ice or snow and in windy conditions. When a bifold door is equipped with a remote opener, the pilot can hit the button and enter the hangar without leaving the cockpit.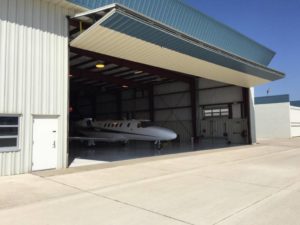 These benefits motivated Iowa's Waterloo Regional Airport to install bifold doors—it currently has 15 of them—for more than 20 years.
Six of the bifold liftstrap doors at this airport measure 18-m (60-ft) wide x 6.5-m (21.6-ft) high. The airport is also home to several smaller ones, including four T-hangar bifold doors. The hangars are leased by the city to private pilots and corporations. Three of the large hangars house jet aircraft, while others contain multiple planes, floatplanes, jets, and helicopters.
Six of the 40 hangars at the airport are large bulk hangars—two are used as maintenance shops. In 2008, the city chose to replace four sliding doors on T-hangars with bifold doors. The corporate hangar doors have remote openers, photo eye sensors, walkdoors, and autolatches. Others have manual latches.
When compared to cable lift doors, liftstrap bifold doors are virtually maintenance-free. Liftstraps are safer and stronger than cables and are guaranteed for 10 years. Each strap is capable of lifting 13,154 kg (29,000 lb) compared to 3265 kg (7200 lb) on cables. They also lift faster than cable doors—a nice feature to have in heated and air-conditioned buildings.
"After we got the first door with the straps, we wanted every door with straps. We have done cable to liftstrap conversions on all but five of them. I would never put a cable on anything. I now spend a lot less time in these hangars in the wintertime fixing cables. We also converted some of our cable-operated autolatches to strap autolatches and have not had a problem with them since," explained Rusty Zey, airport foreman.
Liftstrap doors are also wind-rated at 209 km/h (130 mph) and include hurricane pins to further secure them to the hangars. Similar to the bolt on a standard door lock, these pins are strong steel bolts that lock the door to the building, resisting negative wind loads. They can be placed into the floor at the bottom of the door or as 'wall pins' in the side of bifold or hydraulic doors. This system proved beneficial for Aransas County Airport, and would likewise serve Waterloo well.