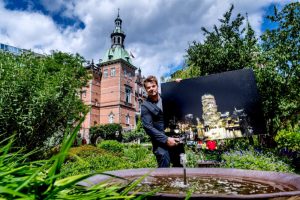 Bjarke Ingels Group (BIG) has revealed plans for the H. C. Andersen Hotel, situated inside the iconic Tivoli Gardens amusement park and vis-à-vis Copenhagen City Hall in Denmark. The project will refurbish and re-purpose the 1893 Tivoli Castle, renovate the 1883 Panorama Pavilion, and build a new 18-story pagoda.
"With a renovation of the 1893 Tivoli Castle and the addition of a new building, we have attempted to capture and accentuate the character of the existing castle, creating a new typology inspired by Tivoli's archetypical architecture," said Bjarke Ingels.
Tivoli's new pagoda, like Tivoli itself, will be covered in gardens and greenery. It will have a sustainable profile in keeping with Tivoli's tradition of buying green energy and generating a small environmental footprint.
"Only through projects such as this can Tivoli stay relevant for future visitors. It has been proven time and time again, that depending on Tivoli's historic charm is not enough," said Lars Liebst, CEO of Tivoli. "Change is in Tivoli's DNA, it is our heritage, and Tivoli has always hired the best architects to make sure that new additions will stand the test of time, because we are building for the future."
In addition to the hotel, urban design practice Gehl has designed a 10,400-m2 (111,945-sf) recreational space with only pedestrian and cyclist traffic in front of Tivoli and adjoining Copenhagen's City Hall Square. The urban park will serve as a buffer area for big events in City Hall Square and in Tivoli and seeks to strengthen Copenhagen's green profile.