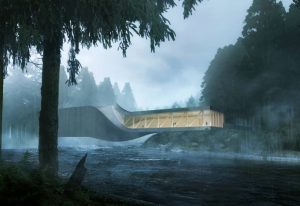 The Twist, a museum-cum-bridge in Norway designed by the Bjarke Ingels Group (BIG) is set to open on September 18. Spanning 60 m (197 ft) above the Randselva River, the 1800-m2 (19,375 sf) building connects the north and south side of Kistefos, a 270,000 m2 (2.9 million sf) sculpture park and industrial museum.
The Kistefos property has three intertwining landscapes—the natural landscape of rivers, waterfalls, islands, canyons, and forests; an industrial landscape of mills, factories, warehouses, power plants, dams, and bridges; and finally a sculptural landscape of abstract objects.
BIG approached the design for a new museum as an opportunity to create a masterplan for these three landscapes, and organized the entire sculpture park as an outdoor museum.
Rather than building on the proposed site close to an old mill, BIG moved the location for the new museum down the river to preserve the mill's historical setting.
On this site, BIG proposed a raw and simple form to respond to the challenges of the landscape—a building, sculpture, and bridge, all in one. The bridge connects the property to create a series of landscape galleries. The continuous path that is formed will enable access to each of the outdoor galleries and provide new vistas of the riverbank and the historic mill.