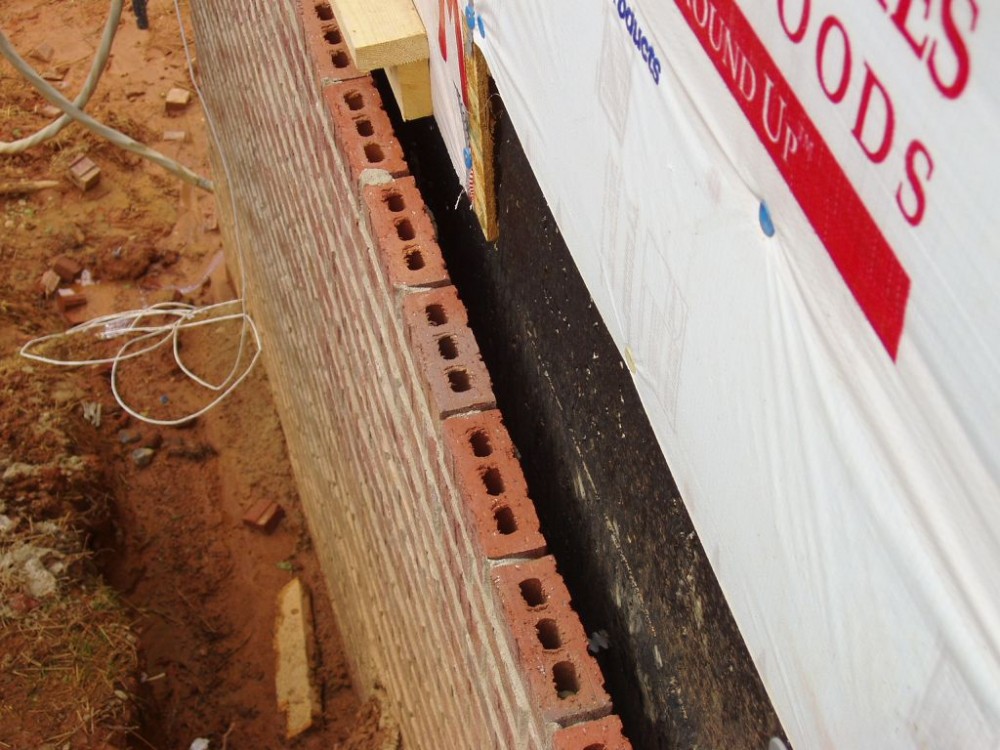 by Crysta Thomas
Every year, the summer solstice marks the beginning of summer in the Northern Hemisphere, followed by humidity interchanged with dryness. Periods of intermittent rain showers followed by stretches of blistering heat are common and these climate variations can lead to an increase in wall moisture. This moisture can negatively impact the safety and structural integrity of buildings.
Construction techniques have advanced and structures have become more energy-efficient and airtight. Building codes and consumer demand for comfortable, energy-efficient homes has continued to develop; although better for the energy bill, these practices minimize the amount of moisture movement and natural drying in the building envelope. If not addressed, trapped moisture can lead to problems such as mold and deterioration of building components.
Maintaining a consistently dry wall assembly provides certain advantages, such as inhibiting mold development and minimizing potential damage to wood and wood products to maintain structural integrity. Wall assemblies with 25-mm (1-in.) air space can provide rapid drying, hampering bacteria growth and insect infestations.
As part of an effort to better recognize the performance of wall assemblies in mixed-humid climates, the U.S. Department of Housing and Urban Development (HUD) worked with the U.S. Department of Agriculture's (USDA) Forest Products Laboratory and the Brick Industry Association (BIA) to conduct a year-long field study on the effects of moisture. Moisture Performance Study of Typical Residential Wall Assemblies was the result of "the increase in moisture-related problems in new residential homes, combined with the popularity of absorptive claddings in moist climates," according to the National Association of Homebuilders (NAHB).
Research examined eight popular and commonly used sidings, including:
vinyl-sided wall;
stucco-clad wall with one layer of felt;
stucco-clad wall with two layers of felt;
stucco-clad wall with vented cladding;
stucco wall with plywood sheathing;
wall clad with manufactured stone;
fiber-cement siding wall; and
brick veneer.
Aimed at examining the performance of wall assemblies in periods of extended heat and moisture, the study also considered how wall design factors enhanced the durability of energy-efficient walls.
Over the span of the 12-month testing period, 44 sensors designed to detect and analyze moisture content, temperature, and relative humidity (RH) were affixed to the wood framing or sheathing in varied test points on each sample. The moisture levels were recorded in natural elements like precipitation and wind-driven rain, as well as outdoor and indoor temperatures and humidity. The sensors were dispersed on the sampled walls to take into account assorted temperatures—increased coolness closer to the ground or excess warmth near the roof. To ensure accuracy, each sensor transmitted new readings every 30 minutes during the testing period.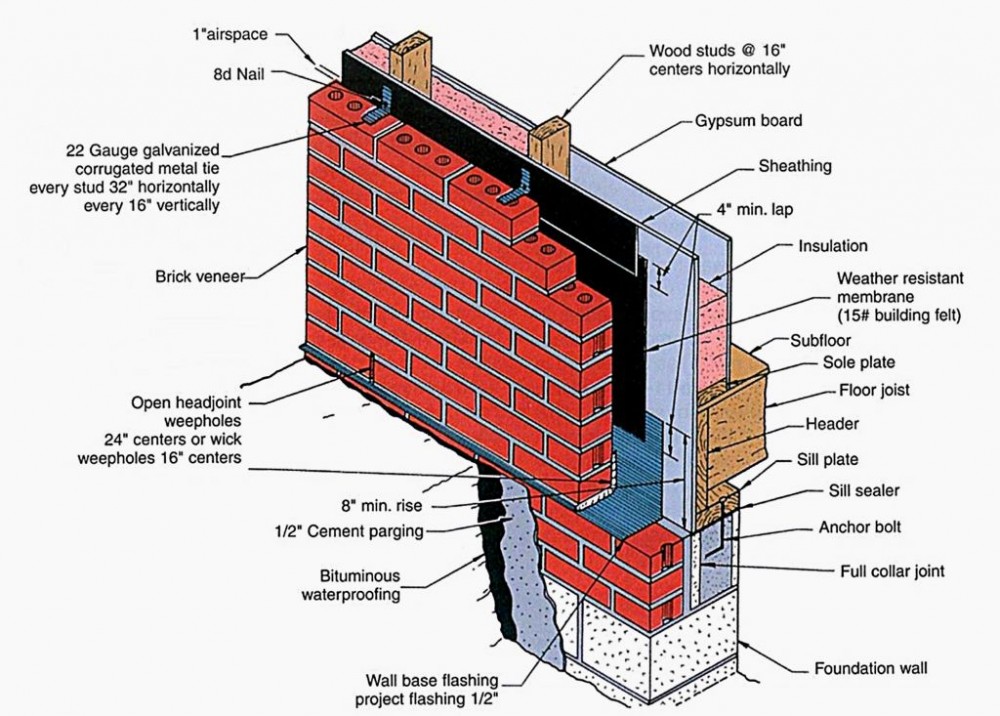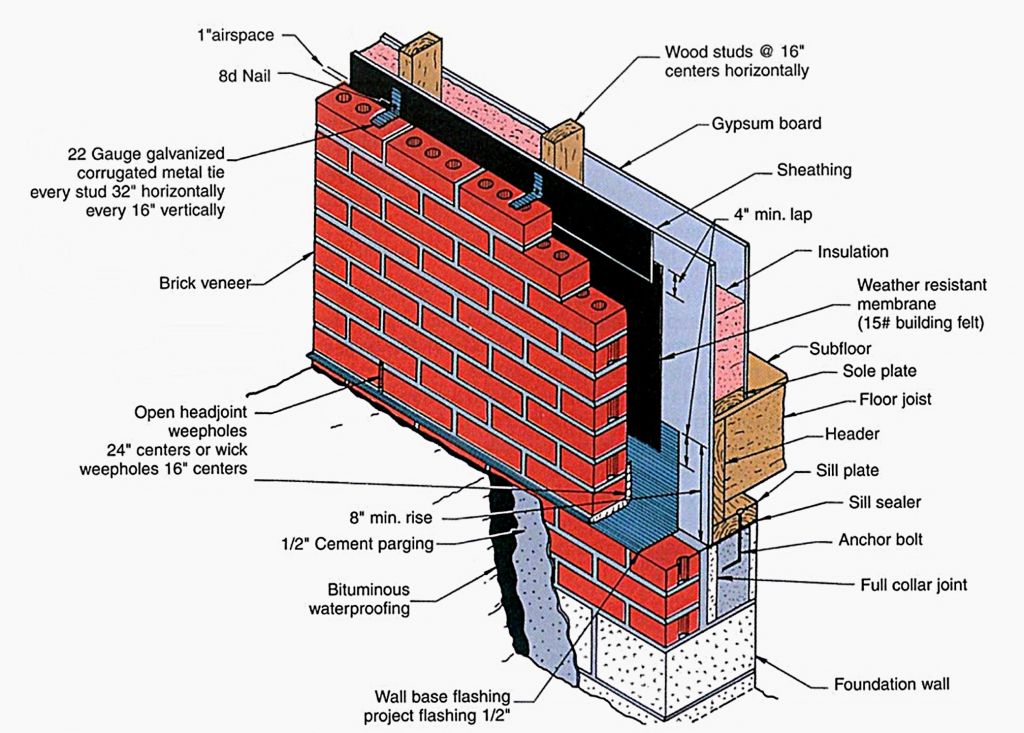 As part of the examination, researchers used controlled injections of water behind the cladding to determine the wall's draining capabilities. Other tests included computer simulations predicting moisture levels, both in magnitude and seasonal phases.
At the conclusion of the year-long examination period, it was clear all the assemblies tested below the industry-recognized moisture content threshold level (16 percent). The study also found walls constructed with an air gap saw no sustained increase in moisture, and it was vital to have a second layer of water-resistive barrier (WRB) for cases when bulk water gets behind stucco. According to researchers, "stucco-clad walls with two layers of WRB had virtually no increase in moisture content while the stucco-clad walls with a single layer of WRB realized moisture increases of up to 3.5 percent."
Orientation and solar exposure proved to be crucial elements in wall performance. In every case, north-facing walls experienced higher moisture and humidity readings than the south-facing walls in the same construction.
Two factors worked to secure lower moisture content throughout the test claddings: wall temperature and air circulation. Higher wall temperatures resulted in lower moisture content. Further, air movement controlled the drying capabilities of the cladding. In most cases, the effects of a wall penetration will not change the wall's moisture performance.
North-facing with manufactured stone and north- and south-facing stucco-clad walls with plywood sheathing exhibited the poorest performance from the perspective of highest initial moisture content. The wall cavities for these two assemblies were the slowest to dry. Due to its typical construction and a nominal 25-mm air space behind the cladding, brick veneer wall assemblies were the most consistently dry.
Results of the study proved brick construction consistently produced a wood stud wall cavity with lower humidity. The 25-mm air space also allowed for rapid drying, inhibiting the growth of bacteria damp wood could promote. Additionally, darker claddings, like brick, maintained the highest wood stud wall cavity temperature. Since lower humidity can inhibit mold development, brick veneer wall assemblies meet the "Conditions Necessary to Minimize Mold Growth" of American Society of Heating, Refrigerating, and Air-conditioning Engineers (ASHRAE) 160, Criteria for Moisture-control Design Analysis in Buildings.
Experts throughout the industry recognize the importance of proper ventilation as an important element of moisture control. In hot and humid climates, seasonal condensation issues indicate the wall assemblies need to resist the intrusion of bulk and vapor water. Often, increased air movement brings more moisture into the wall cavity, reducing the drying opportunities. As industry leaders have called for additional ventilation, the shortcomings of current and past moisture control strategies have been exposed. Additionally, considerations like cladding type, climate, geographic orientation, and wall assembly are important. The amount of annual rainfall can be used as a guide for determining the level of moisture management needed in a wall. No matter where a building is located, brick wall assemblies can promote dryness that helps maintain the structural integrity.
Crysta Thomas is the brand manager for Boral's Cladding Division. Since joining the company in 2007, she has risen from the ranks of architectural sales representative to brand marketing coordinator and on to brand manager. Thomas can be contacted by e-mail at crysta.thomas@boral.com.