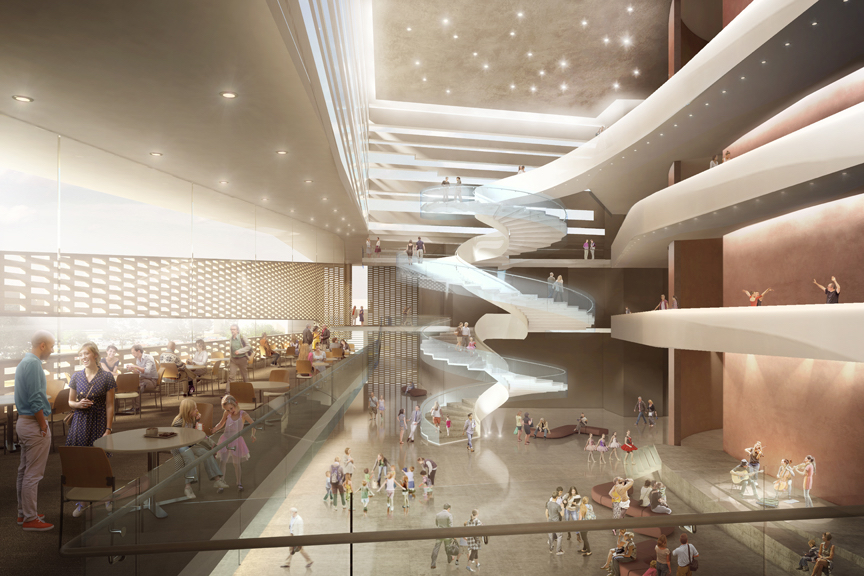 Swooping planes and a helical staircase are two of the designs features that will welcome patrons of the Buddy Holly Hall of Performing Arts and Sciences in Lubbock, Texas.
Designed by Toronto's Diamond Schmitt Architects, the $146-million facility will pay homage to the legendary 1950s pop star in his birthplace. When it's built, the hall will feature a 2200-seat main theater, an additional 400-seat theater, a 465-m2 (5000-sf) multi-purpose room, and a 2044-m2 (22,000-sf) dance center.
Hosting everything from opera to rock concerts and Broadway-style shows to conferences and social events, the facility will house Ballet Lubbock with its own rehearsal and performance space and provide access to the Lubbock Independent School District as a learning center.
Versatility is at the heart of the hall's design. The floor of the main auditorium can have raked seating or be flat for a standing audience, either below or in line with the stage. Additionally, the hall will feature top-tier natural acoustics for a large symphony orchestra, as well as cutting-edge amplified sound for touring bands and shows.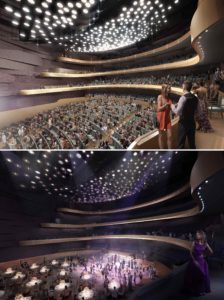 "The aim for Lubbock is to create a performing arts center as good acoustically, as welcoming to the public, and as attractive to performers to be among the best halls in North America," said Jack Diamond, principal with Diamond Schmitt Architects.
In addition to the helical stair in the lobby, the facility's public space includes a bistro café, making Buddy Holly Hall a community living room active throughout the day in addition to evening performances. The structure's central volume conceals the fly tower and is framed by a roofline of swooping planes with cascading columns. The design establishes a strong visual identity and creates a welcoming entrance.
A 60-m (200-ft) telecommunications tower adjacent to the hall will serve as a marker for the new performing arts center, as well as a symbol of renewal for Lubbock that will be visible from a great distance.
"Our goal is to have this venue feel great for all types of performers and audiences, whether they are in jeans and hats or ball gowns," said Matthew Lella, also a principal at Diamond Schmitt.