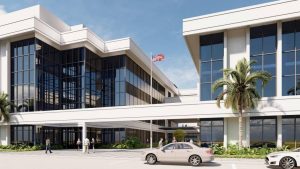 Abramson Architects, a Los Angeles-based architecture and interior design firm, has acquired San Diego-based Moon Mayoras Architects (MMA). The merger strengthens Abramson Archiects' legacy of patient-centered healthcare design.
MMA is recognized throughout Southern California for reimagining healthcare spaces to foster comfort and promote healing through design.
The strategic acquisition of MMA enriches Abramson Architects' distinguished medical portfolio with extensive expertise in healthcare design, specifically in areas such as Department of Healthcare Access and Information's (HCAI's, formerly OSHPD) hospital projects in California.
The retention of MMA's San Diego office and its experienced staff, combined with the firm's existing headquarters in the West Adams neighborhood of Los Angeles, enables Abramson Architects to build upon its well-established presence in Southern California.
"Drawing on MMA's exceptional track record of delivering outstanding results for esteemed institutions, such as Eisenhower Health, and other prominent establishments in Southern California, we are now poised to offer unparalleled solutions in arenas requiring high design and specialized architecture," says Trevor Abramson, founding partner of Abramson Architects.
MMA principal David Moon will assume the role of principal at Abramson Architects, co-leading the healthcare design practice alongside Bjorn Schrader. "This partnership presents significant opportunities for growth," said Moon. "We were impressed by Abramson Architects' culture of collaboration and their commitment to delivering results-driven design. Together, we will reshape the future of healthcare architecture and continue to provide our clients with intelligent, effective, and innovative designs tailored to their unique needs."