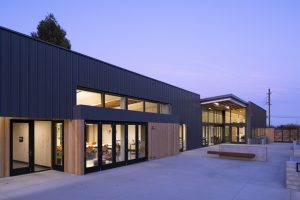 Spring Hill School's new campus in southern Sonoma County, Petaluma, California, welcomed its first middle school class during the 2019-20 academic year. Skylight systems expand the school's learning spaces beyond the building's walls, making the most of the fresh air and sunshine.
Designed by DMARC Studio and constructed by Advanced Building Solutions, the new middle school showcases a contemporary exterior and a flexible interior with capacity for up to 120 students.
Designed for daylight
The manufacturing company engineered and fabricated the covered walkway's skylight system. Increasing natural daylight, ventilation, and views, the middle school's classroom windows and doors typically remain open when students are on campus. The skylight shelters the openings and the students from California's occasional rain and intense sunshine.
Helping create Spring Hill School's indoor-outdoor learning environment, the monumental glass skylight system spans approximately 51 by 2 m (168 by 6 ft). The system is single slope, at a 1:12 slope over the entire span.
The system is butt-glazed in the horizontal direction, and at the head and sill, without the need for intermediate purlins. Installed on site, the skylight's rafter members attached directly to the walkway's beams with clip angles. Cover caps were secured over the rafter pressure plates.
Proven to perform
Each of the 55 panels that compose the skylights vary in size from 737 to 991 mm (29 to 39 in.) and up to 1803 mm (71 in.) long. The laminated glass for each panel is 14 mm (0.56 in.) thick and framed in durable, clear anodized aluminum. Contributing to project performance and sustainable goals, the skylight systems use recycled aluminum as standard. After its useful life as part of the skylight, the metal is 100 percent recyclable.
STEAM-driven success
DMARC's architectural team noted the design challenge for the Spring Hill School was to provide an efficient, flexible, and inspiring facility with Science, Technology, Engineering, the Arts and Mathematics (STEAM) curriculum-specific instructional space at a reasonable cost.
"This challenge was approached by utilizing a unique structural system that not only provides flexibility for the instructional spaces within the building, but also provides a design aesthetic inspired by the STEAM curriculum when exposed," stated DMARC.
Recognizing the school's design achievements, DMARC Studio's received multiple awards from the American Institute of Architects (AIA) Redwood Empire, including a 2020 Honor Award and Committee on the Environment (COTE) Award.