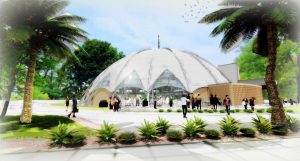 California's Century 21 Theatre in San Jose, the only domed cinema in the Bay Area, and a landmark which is considered a historical resource, will be rehabilitated, and turned into a realty office.
Since the building is listed on the California Register of Historical Resources, a major emphasis of the rehabilitation will be to preserve its contributing historic characteristics and align it with The Secretary of the Interior's Standards for Rehabilitation. Another aspect of the rehabilitation will focus on bringing daylight, from the ground level and above it, into the massive interior volume of the structure. The transformation into the client, Federal Realty's office will equip the building with spaces, including a fitness center, cafe, daycare, and conference facility, with the aim to create a unique experience for the occupants.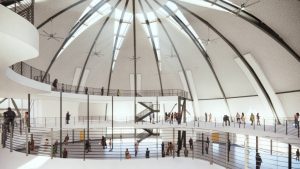 The San Francisco-based design agency, TEF Design's conceptual plans for the rehabilitation focus on envelope improvements, a complete replacement of the roof, and a structural retrofit to bring the theater up to date for commercial use in the modern times.
The dome's construction utilizes 20 steel ribs and wood sheathings, overlaid with asphalt, giving it 16.8 m (55 ft) in height, alongside a diameter of 47.2 m (155 ft)—which is large enough to house two tennis courts inside. A 7.32-m (24-ft) steel finial caps the dome, serving the purposes of ornamentation. The ribs and the finial will be preserved. Other features, such as decorative concrete walls, decorative pattern at the ticket window area, marquee, signage, and lighting will be retained with a focus on repairing and strengthening or re-installing and/or replacing them whenever necessary.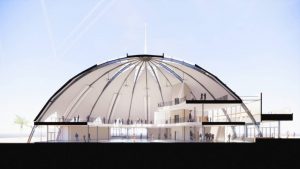 The renovation aspect of the transformation will include demolition of all interior walls, stairs, and stepped theater seating platforms to allow for flexibility in future uses. Building systems, including HVAC, electrical, plumbing, and fire protection will be replaced as well, and the building will undergo a retrofit fortifying its seismic resilience.
The addition of skylights to the center of the dome, recapturing the roof's original starburst pattern, and on the second level and above the lobby entrance as well, will inundate the facility with natural light. Storefront glazing at the ground level will compound this effect. Two mezzanine floors will also be added to expand the total footprint between 2,694 m2 (29,000 sf) and 3,205 m2 (34,500 sf). A new elevator, and two new stairs, will provide access to three floors, and an accessible ramp and stair will allow occupants to descend from the raised lobby area to the rest of the ground floor.
Other project collaborators are GLS Landscape | Architecture as landscape architect; BKF Engineers in the capacity of civil engineer; Ryan Joyce Structural Design as structural engineer; and Pacific Architects and Engineers (PAE) in three capacities as mechanical/plumbing/fire protection engineer, electrical/telecom engineer, and fire alarm/fire life-safety consultant.
The Century 21 Theatre rehabilitation is expected to be completed in 2025.