Lighting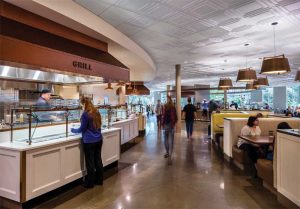 Light reflectance values (LRV) are determined primarily by color and reflectivity of a panel's finish. Surfaces with molded or other decorative relief will be accented by highlights and shadows, especially if there is glancing or side light (Figure 11).
Ceilings can also transmit light. For example, metal panels with large, open areas can filter illumination from above ceiling sources. Thermoformed panels can be made with translucent, frosted, or clear material to create luminous ceilings and special lighting effects such as rear-projected images and dynamic colored light-emitting diodes (LEDs). Clear panels can be installed beneath equipment in the ceiling cavity to allow visual inspection without removal of panels (Figure 12).
Material safety
While currently produced mineral fiber panels do not pose significant health hazards from asbestos, their vitrified glass fibers, crystalline silica, and other components can readily erode and release dust and fibers associated with health concerns. This is made clear by manufacturer safety data sheets cautioning against breathing dust and coming into contact with skin or eyes and the need to wear protective respiratory masks, gloves, clothing, eye, and face protection.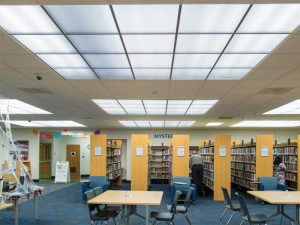 Even if these precautions are observed by professional ceiling installers, other trades and building maintenance personnel and tenants who need to handle ceiling panels are probably unaware of the hazards. In healthcare facilities, the ceiling's potential to release dust and fibers may have to be addressed in pre-construction risk assessments (PCRA) and infection control risk assessments (ICRA).
Many of these concerns also apply to glass fiber insulation used above other types of panels. It is advisable to encapsulate the insulation in plastic or another material to reduce the potential release of fibers. As an alternative, polyester fiber batts can be used for above panel acoustic insulation. The polymer fibers are much longer and more flexible than mineral fibers, so less likely to erode and become airborne. Their safety is demonstrated by the widespread use of polyester fiber in clothing and household items. Polyester batts with Class A surface burning characteristics are available.
In this author's experience, wood and metal panels use materials with well-established health and safety records.
Vinyl is a controversial material. Several organizations have placed polyvinyl chloride (PVC) on their precautionary lists and request specifiers to seek alternatives. Yet, a case can be made vinyl with its durability, washability, recyclability, efficient use of materials, and other benefits can be used responsibly. Some of the concerns expressed about vinyl floors—such as releasing airborne particles due to abrasive foot traffic or dermatological contact by children crawling on floors—do not apply to overhead products.
Responsible thermoformers:
source vinyl from suppliers with rigorously clean manufacturing programs limiting the release of toxins into the environment;
use rigid vinyls free of phthalates or other chemicals of concerns or contain only trace amounts unlikely to migrate to the surface; and
take back scrap from their panels and recycle it in a closed-loop process to make new products.
Other options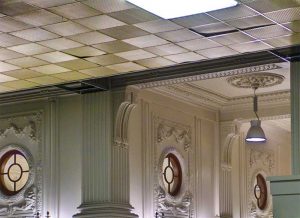 Before choosing a ceiling panel, a designer might also consider the option of not using one and leaving the structure and other overhead building components exposed for an aesthetic many find attractive. The apparent cost saving of omitting a suspended ceiling has to be balanced against the potential for added costs to make exposed services and surfaces visually acceptable (Figure 13). This can include painting and more care in locating and installing services. Omitting the ceiling simplifies maintenance access to overhead surfaces and systems, yet can also increase the maintenance required to keep them looking presentable. Heating and cooling costs may increase due to stratification and the larger volume of air to condition. Exposed, overhead structures may be unattractively dark, or require increased energy to illuminate.15
Conclusion
With so many ceiling products available, the specifier's selection can be difficult. It is likely to get more challenging as manufacturers reformulate products to improve performance, new types of flat, solid-state lighting fixtures become economic replacements for ceiling panels, and acoustic metamaterials enable one to manipulate sound in unprecedented ways. While 'ceiling' can be a synonym for 'limitation,' one can be confident the construction industry has not reached the ceiling on that ceiling design or performance.
Michael Chusid, RA, FCSI, CCS, is a frequent contributor to The Construction Specifier, and a consultant to building product manufacturers. He can be reached at www.chusid.com.