by Michael Chusid, RA, FCSI, CCS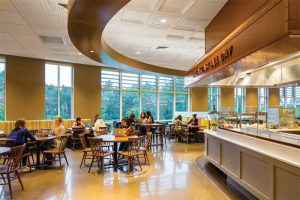 Ceilings are one of the most visible architectural surfaces in many building interiors. Performance requirements for ceilings can be as complex as those required of walls, floors, and other finishes. Selecting the right product to use overhead should be seen as a wise investment in building performance (Figure 1).
This article identifies common performance criteria applying to lay-in panels for installation in standard T-bar suspended ceiling systems. It also compares the performance of standard ceiling panel types to help the initial product selection (suspended ceiling systems are within the scope of ASTM C635, Standard Specification for Manufacture, Performance, and Testing of Metal Suspension Systems for Acoustical Tile and Lay-in Panel Ceilings, and ASTM C636, Standard Practice for Installation of Metal Ceiling Suspension Systems for Acoustical Tile and Lay-In Panels). Panel types selected for this paper are made of mineral fiber, sheet metal, thermoformed rigid vinyl, and wood (Figure 2). Wide variations occur within types between products by different manufacturers and even with a manufacturer's own product lines, so readers are advised to research specific products before specifying or purchasing them (Figure 3).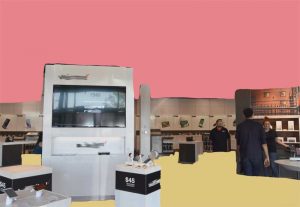 Accessibility above ceiling
Suspended ceilings are an alternative to ceiling products applied directly to a substrate. Suspending a ceiling:
lowers overhead surfaces for visual purposes;
puts surfaces within reach for cleaning and maintenance;
reduces acoustic reverberation time, the amount of air to be tempered, and the volume of space to be illuminated;
creates a cavity in which HVAC ducts and equipment, conduit and cables, piping, and other building services can be installed;
conceals unattractive structural systems;
protects fragile materials such as spray-applied fireproofing systems; and
enables smoke detection and sprinkler systems to activate at a faster rate.
The ceiling cavity should be accessible to allow inspection, maintenance, and modification of above-ceiling items. Ceiling panels should, therefore, be lightweight and robust enough to survive repeated handling, especially because most of the accessing over the life of a building is likely to be performed by individuals not trained as ceiling installers.
As the term 'lay-in' suggests, the ceiling panels discussed in this article must be raised above the suspension system and then lowered onto the flange of the T-bar grid. Sufficient clearance must be provided between grid and items in cavity. This is especially a concern with rigid panels as flexible ones can be manipulated to fit into tighter spaces.
Acoustics
All ceilings have acoustic properties with varying degrees of noise reduction, transmission, and reflection. Yet, the term, 'acoustic ceiling,' does not have a consistent definition. Hence specifiers should use it sparingly and define what it means for particular projects.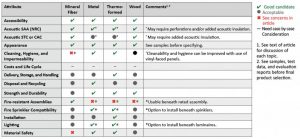 Noise reduction is determined in accordance with ASTM C423, Standard Test Method for Sound Absorption and Sound Absorption Coefficients by the Reverberation Room Method, and expressed as a sound absorption average (SAA). SAA was adopted by ASTM in 2000 as a refined replacement for noise reduction coefficient (NRC). A SAA of 0.00 indicates zero sound absorption and SAA 1.00 suggests all impinging noise is absorbed. SAA ratings will usually be close in value to NRC ratings (ASTM C423, Standard Test Method for Sound Absorption and Sound Absorption Coefficients by the Reverberation Room Method, tests for suspended ceilings should use ASTM E795, Standard Practices for Mounting Test Specimens During Sound Absorption Tests, Mounting E. This mount holds the test specimen above the concrete floor of the reverberation room to simulate installation beneath a ceiling cavity. A 400-mm (16-in.) mounting height is commonly used).
Mineral fiber panels absorb sound by transforming airborne vibrations into heat that is generated by vibration of the fibers. Performance of these panels ranges from SAA 0.45 to 0.95. Thin metal and thermoformed panels act as diaphragms and dampen noise by transforming airborne vibrations into the mechanical motion of vibrating panels and by passing sound into the cavity where the viscous mass of air trapped above the ceiling dampens vibrations. For example, suspended thermoformed panels made of 0.33-mm (0.13-in.) thick material have SAA 25. Hard-surface ceiling panels, such as wood, are essentially reflective.
The absorption of wood, metal, and thermoformed panels can be boosted by perforating panels to create resonant sound absorption (Figure 4). Further, SAA improvements result from backloading panels with an acoustic insulation. In this manner, metal panels with a non-woven acoustic fabric backing can achieve nearly SAA 0.70 and the thermoformed panel with a 38-mm (1.5-in.) thick polyester fiber batt can achieve SAA 0.85.