Delivery, storage, and handling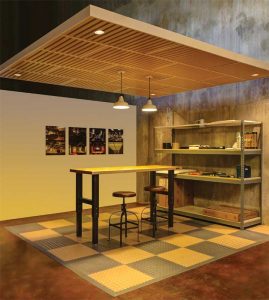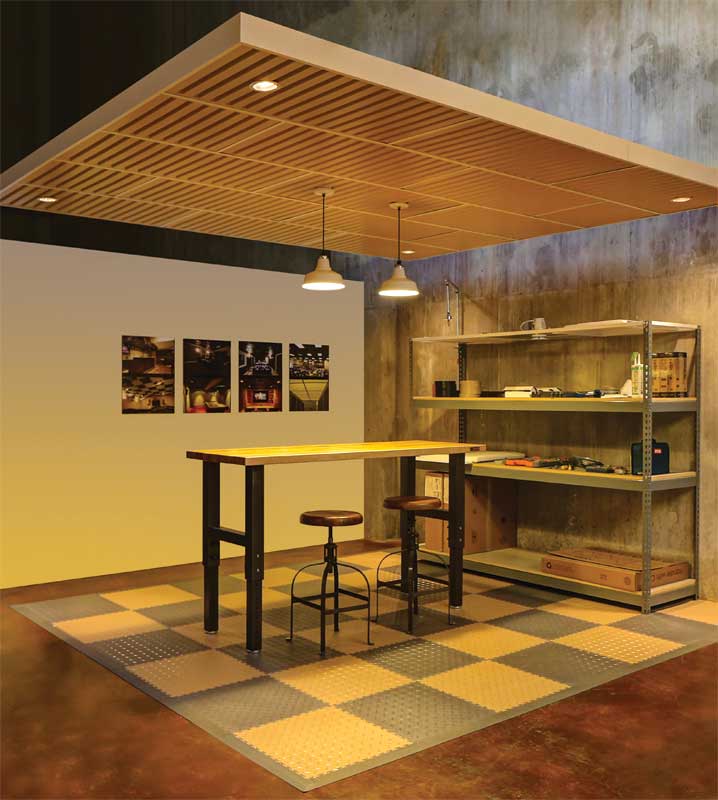 While distance from point of extraction and manufacture to building site has an environmental and economic impact, other factors can have bigger consequences. For example, pressed metal and thermoformed panels are very thin and nest compactly to allow about five times as many panels to be shipped and be stored in a given volume compared to most mineral fiber or wood panels. Thermoformed panels are also lighter by 80 to 90 percent. Since metal and thermoformed panels are not affected by moisture, they can also be stored onsite and be installed before humidity has stabilized in a new building. Many types of ceiling panels are fragile, prone to breakage, and can be easily damaged during each stage of handling.
Disposal and recycling
Metal panels are readily recycled without downgrading the metal's quality. High quality vinyl panels (Plastic Resin Identification Code 3) are also recyclable without loss of performance and is used to make, among other products, new ceiling panels with 98 to 100 percent recycled content. Thermoformed panels with fillers may have to be downcycled or sent to landfill. Wood panels can be handled in the same manner as other wood scrap and debris.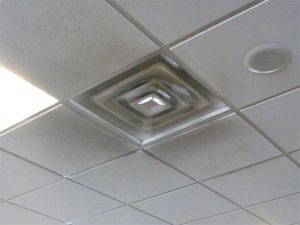 With careful handling, the metal, thermoformed, and wood panels can be collected and reused. If necessary, they can be collected for disposal or recycling via conventional waste and debris streams. Some manufacturers will also take back their material for reprocessing. Mineral fiber, however, requires special handling and treatment such as palletizing and shipping to ceiling panel manufacturers.
Strength and durability
The introduction to ASTM C367, Strength Properties of Prefabricated Architectural Acoustical Tile or Lay-In Ceiling Panels, says, "Materials used for absorbing sound generally have a porous, low-density structure. In comparison with many building materials they are relatively fragile," (ASTM C367, Strength Properties of Prefabricated Architectural Acoustical Tile or Lay-In Ceiling Panels, was initially issued 20 years ago and was updated in 2016, suggesting its validity has been established over time). This description limits the applicability of the standard to use with mineral fiber panels.
It contains protocols for evaluating panel friability and sag along with hardness and transverse strength. Knowing this information about various ceiling panels would be useful for screening and specifying products, but manufacturers publish limited test data.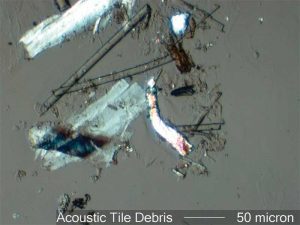 According to ASTM C367, friability is, "the susceptibility of an acoustical product to edge and corner damage sustained during shipping, handling, and installation. Products that are friable and soft will erode considerably when subjected to rough treatment."
In this author's experience, mineral fiber panels release fibers even during ordinary handling. This is also attested to by the stringent requirements for personnel protective clothing and equipment found in manufacturer installation instructions (Figure 8). Further, some researchers argue that fibers can be dislodged by ordinary building vibrations and panel fluctuations due to changes in air pressure.
According to the paper, "Particles and Health: Environmental Forensic Analysis," presented by E. Russ Crutcher, Ken Warner, and H. K. Crutcher at the 2007 Professional Conference on Industrial Hygiene (PCIH) in Louisville, Kentucky, "When a door is opened a pressure pulse may be generated that is translated into vibration and mechanical abrasion, creating wear particles. This is especially the case in buildings with suspended acoustic ceiling tiles. The pressure pulse can lift the ceiling tile slightly and cause it to rub against the T-bar support. The result is abrasion of the edge of the ceiling tile and the creation of millions of particles of glass fiber, resin, perolite, and other debris that sifts down onto the people below."
Sag is also of concern because most mineral fiber panels are prone to damage due to humidity and moisture. Some specialty products come with 30-year warranties against sag. However, statements like 'highly sag resistant' call for identification of a test procedure and results.
Fire safety
Most of the mineral fiber, sheet metal, thermoformed rigid vinyl, and wood panel types are available with Class A surface burning characteristics and can be used in all but the most restrictive building code occupancies (flame spread ≤ 25, smoke developed ≤ 450 when tested in accordance with ASTM E84, Surface Burning Characteristics of Building Materials). Additionally, metal panels are noncombustible.