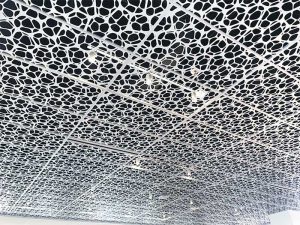 Some mineral fiber panels can be used in floor-ceiling assemblies that are rated to resist the spread of fire from one floor to another. Rated assemblies require use of a suspension grid that is also fire resistant, and penetrations through the ceiling for light fixtures, air supply or return, and fire sprinklers must be protected in an approved manner.
Vinyl is one of the most fire-safe plastics, enabling it to be used for wall and floor finishes as well as ceilings. Thermoformed panels should be self-extinguishing per Underwriters Laboratories (UL) 94, Standard for Safety of Flammability of Plastic Materials for Parts in Devices and Appliances, and be in Flame Class V-0. Unlike many other plastics, vinyl does not melt and drip to spread fire. As discussed in the section on fire sprinkler compatibility, thermoplastic panels drop out of ceiling grids when exposed to heat. They fall to the relatively cooler floor where they are less likely to burn. In the worst case, the thin material used for panels would contribute very little fuel.
Ceilings also have an effect on fire spread and firefighting. Fire-resistant and noncombustible ceiling panels, for example, may create a hidden plenum through which fire can spread or conceal fire hotspots in the floor above. Firefighters may have to use pikes to tear down ceiling panels. Falling panels, especially heavy ones, and the razor-sharp edges of metal panels increase the danger to firefighters in the space. In this author's experience, these hazards are reduced when using thermoformed ceilings as they are lightweight and free from sharp edges. Since panels drop out when exposed to heat, they may simplify the firefighter's search for hotspots.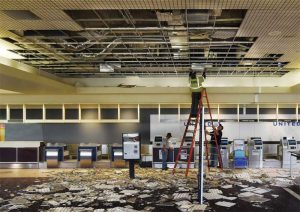 Fire sprinkler compatibility
Most ceiling panels require holes to allow sprinklers to reach the underside of ceiling. Two exceptions, however, are included in the 2019 version of the National Fire Protection Association (NFPA) 13, Fire Sprinkler Systems.
Ceilings with large, open areas
According to paragraph 9.2.15 in NFPA 13, ceilings with at least 70 percent open area are referred to as 'open grid' systems and can be installed beneath fire sprinklers (Figure 9). Some metal ceilings can meet this criterion for large, open areas if the remaining metal performs satisfactorily.
Drop-out ceilings
According to paragraph 9.2.16 in NFPA 13, as a fire's heat rises, some thermoformed panels soften, sag, and drop out of the ceiling grid to the cooler floor. This exposes sprinklers in ceiling cavity and allows them to operate without encumbrance. One must look for drop-out panels that have been recognized by Factory Mutual (FM), UL, and code-recognized product evaluation services such as the International Association of Plumbing and Mechanical Officials–Uniform Evaluation Service (IAPMO-UES) or the International Code Council–Evaluation Service (ICC-ES).
Both the open grid and drop-out ceilings can reduce cost of sprinkler installation by eliminating the need to drop sprinklers and coordinate locations of panels and sprinklers. They can also reduce visual clutter from exposed sprinklers and help protect sprinklers from damage and tampering. If desired, the ceilings can still be used with penetrating sprinklers.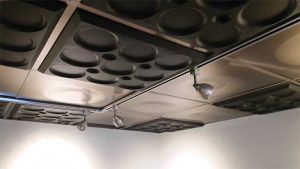 Water from activated sprinklers, as well as from firefighting hoses, can cause extensive damage to building materials and contents, especially when a deluge on an upper floor drains to lower levels (Figure 10). The water does not normally damage metal and thermoformed panels, but fibrous acoustic insulation on top of panels may need to be replaced. Wood panels can be damaged by water but some types could be reused if dried before mold growth. Mineral fiber panels, however, can become saturated with water and fall, creating a soggy mess.
Installation
All types of ceiling panels require standard precautions including the use of eye protection when working overhead and gloves when employing sharp tools. Ladder safety is also important, especially with wood and heavier panel types where repeated lifting and reaching can lead to injuries.
Mineral fiber panels require special attention to airborne fibers and dust.
Metal panels often have razor-sharp edges and corners, especially when cut in field. Panel installers should wear cut-resistant gloves and other protective clothing made from leather or aramid textiles. Depending on metal and thickness, heavy-duty or power shears and guillotine cutters may be required to trim panels.
Thermoformed panels are lightweight, can be easily cut with aviation snips or scissors, do not have sharp edges, and do not release fibers.