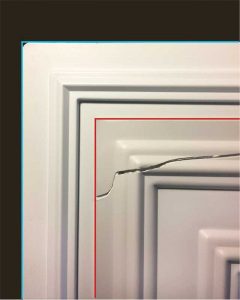 Sound transmission losses are expressed primarily in:
sound transmission coefficient (STC) that indicates noise lost from one side to the other of a wall or floor-ceiling assembly, as determined by ASTM E90, Standard Test Method for Laboratory Measurement of Airborne Sound Transmission Loss of Building Partitions and Elements; and
ceiling attenuation class (CAC) indicating how well ceilings can act as a barrier to sound transmission when the wall between adjacent rooms goes only to the ceiling, as per ASTM E1414, Standard Test Method for Airborne Sound Attenuation Between Rooms Sharing a Common Ceiling Plenum (consult ASTM E989,Standard Classification for Determination of Impact Insulation Class).
Products with greater mass typically perform better in STC and CAC tests, which gives mineral fiber and solid wood the advantage over lighter-weight panels. Performance in the field could be degraded by penetrations through a ceiling such as light fixtures and fire sprinklers. Either the ASTM E1414 test should be conducted with representative penetrations or measures must be taken to seal or cover penetrations. In this regard, drop-out and luminous ceilings (discussed later in the article) may be less compromised because luminaires and sprinklers need not penetrate ceiling panels.
Appearance
Designers have a profusion of visual options for ceilings, ranging from smooth, monotone ceiling panels to riots of standard and custom color, relief, pattern, and texture (Figure 5).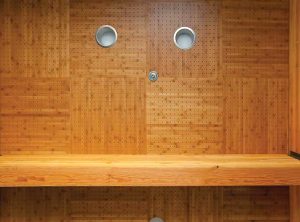 A defining characteristic of suspended ceilings is the rectangular geometry of the suspension system. The grid could be given emphasis by, for example, using finishes that do not match the panel colors. Alternatively, the grid could be camouflaged by integrating it into a patterned scheme formed by decorative ceiling panels (Figure 6).
While standard modular sizes are 609 x 609 mm (24 x 24 in.) or 609 x 1219 mm (24 x 48 in.) on center (o.c.), grids can also accommodate different panel sizes to offer changes in visual scale (grids with metric modules of 600 mm (24 in.) are available. One must verify compatibility with panels). The size of mineral fiber and wood panels is limited because of their tendency to sag due to humidity. Some metal panels can be engineered to provide large sizes. Scale can also be modified by grouping tiles to form multipanel patterns or by combining several types of ceiling panels to form supergraphics.
Cleaning, hygiene, and water impermeability
Most interior finishes 'ugly out' before they wear out. Cleanability can help preserve a ceiling's appearance and extend its serviceability (Figure 7).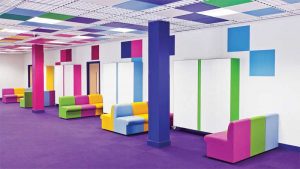 Wood can be cleaned with wood maintenance products or a damp cloth. Metal and thermoformed products offer high levels of stain resistance and can be hosed-off or immersed if necessary. Mineral fiber products can be vacuumed or dusted; few of them are stain resistant or can actually be scrubbed or washed. It is important to note many wood and mineral fiber products can support mold growth.
Ceilings over food processing areas and in critical healthcare and industrial facilities require an absence of crevices where dirt and contaminants can collect.
Water-resistant panels are useful in buildings where leaks, condensation, and spills are of concern. They also contribute to building resilience by meeting the International Building Code's (IBC's) paragraph 802.4 requirements, "buildings in flood hazard areas…, interior finishes, trim and decorative materials… shall be flood-damage-resistant materials."
Costs and life cycle
The list price of ceiling panels is a small fraction of a panel's life-cycle cost. The calculus includes:
delivery, storage, and handling;
installation;
cleanability; and
durability.