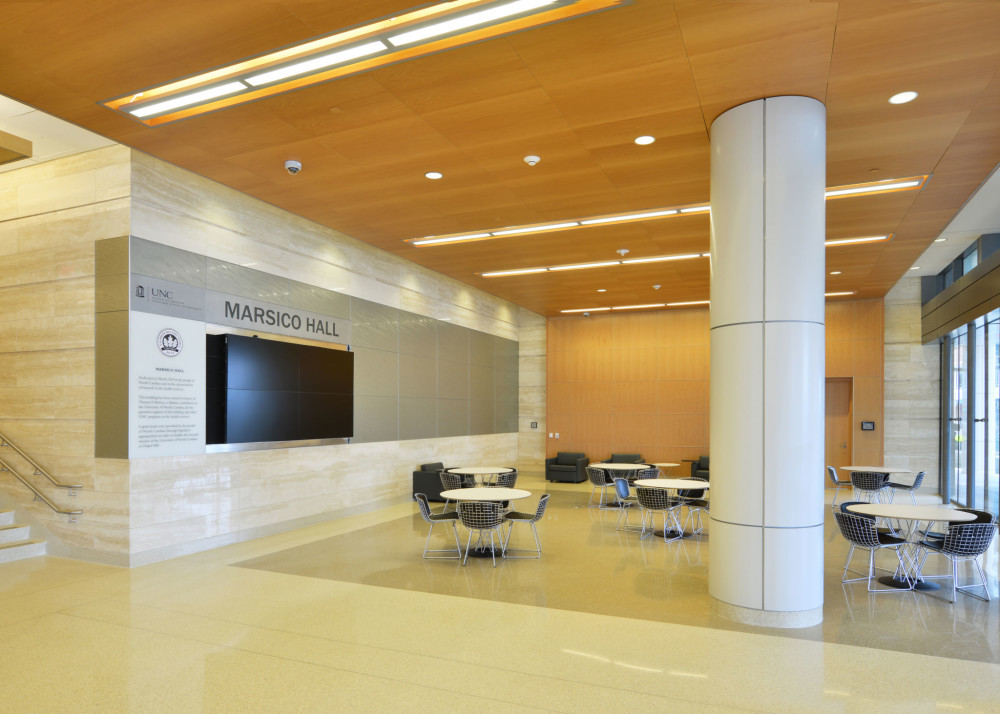 Maintaining quality and grain consistency of veneered ceiling panels was the driving force behind an installation at University of North Carolina at Chapel Hill's Marsico Hall.
In addition to 161 m2 (1730 sf) of plain-sliced maple veneered acoustical ceiling panels used in corridors and seminar rooms, the UNC project comprises 717 m2 (7715 sf) of plain-sliced steamed beech veneered ceiling panels, which were installed in the lobby. Rather than one large ceiling, the project consists of several ceiling locations.
Sourcing the logs for the veneer proved challenging, due to the project's size. While the quantity of the steamed beech was manageable, multiple logs were required to form the maple veneer panels. In addition, the consistency of grain structure and color was paramount when choosing the logs.
Once sliced, the veneer was installed by hand, with particular attention given to location in each space. While pre-manufactured veneer or laminate would have shortened lead time, the made-to-order manufacturing of the veneer assisted in keeping the cost down and maximizing quality control.
Accessibility in all locations was also top of mind for the design team. Additionally, incorporating multiple floating cloud assemblies added to the complexity of ceiling panels, necessitating precise installation. Other challenges to overcome by the design and installation teams included incorporating lighting, HVAC, and fire protection systems.
Further, the owner required an acoustical ceiling. To achieve that, the back of the panels were covered with an acoustic textile combined with a micro-perforation, resulting in a full noise reduction coefficient (NRC) of 0.75 per ASTM C423, Standard Test Method for Sound Absorption and Sound Absorption Coefficients by the Reverberation Room Method.
Completing the job included sorting and matching hundreds of linear feet of ceiling edge trim to each individual ceiling assembly. This allowed as much visual consistency as possible in grain structure and color between the ceiling panels and trim work.