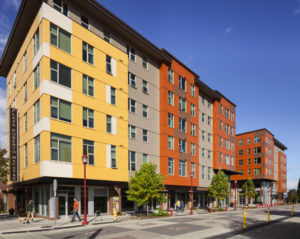 Exceptional projects were recognized by the American Institute of Architects (AIA) Housing Knowledge Community and Office of the Secretary of the U.S. Department of Housing and Urban Development (HUD) last month at the 2017 AIA/HUD Secretary Awards.
Excellence in Affordable Housing Design
For its focus on both sustainability and cost-effectiveness for seniors in Hayward, California, Monteverde Senior Apartments earned this award. Created by Dahlin Group Architecture Planning, the development was located in a hilly area difficult for seniors to navigate, but the multi-tiered site deftly navigated this challenge. Further, it uses photovoltaic (PV) systems to achieve a GreenPoint Rating of 150+, making its 67 units environmentally responsible as well as considerate of age.
Creating Community Connection Award
A two-building complex completed in September after an eight-year planning process was granted this award for its creation of a vibrant community hub. Seattle's Plaza Roberto Maestas incorporates much more than its two six-story residential buildings might otherwise indicate—in addition to 112 units of affordable housing, it offers retail, office, and community space, as well as public transit options and a bilingual child development center. It was created by:
Community-informed Design Award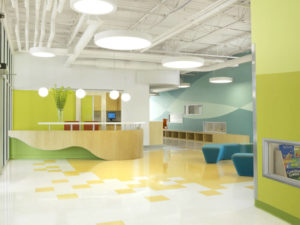 This award was granted to a project recognizing the significant needs of its surrounding community: namely, Flance Early Learning Center, located in an impoverished neighborhood of St. Louis, Missouri. Trivers Associates worked with members of the community, volunteers, and private partners to create a diverse facility offering education, daycare, and wellness programs for 164 children. It is also aesthetically appealing, with a perforated metal façade filtering light.
The AIA/HUD Secretary Awards were juried by:
Katherine Williams, AIA, chair at Fifth Generation Holdings;
Joe Digrado, AIA, of Danielian Associates;
Blake Held, AIA, of Blake H. Held Architect PLLC;
HUD's Danielle Arigoni; and
Rachelle Levitt.