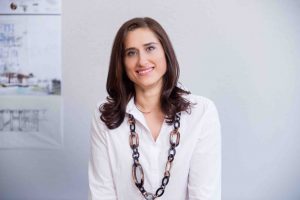 Architecture and interior design firm CetraRuddy has promoted nine team members, including advancing two to senior-level leadership.
Emmanuelle C. Slossberg, LEED AP, has been elevated to principal, and Erica LiBritz, AIA, LEED AP, one of the winners of the 2019 Young Architects Award by the American Institute of Architects (AIA), to associate principal.
Additionally, CetraRuddy has named four new senior associates: Lindsey Doren, AIA, LEED AP, Patricia Duval, Keith Fuchslocher, Sohith Perera, and three new associates: Kana Ahn, Russell Kopp, RA, Hal Rosner.
According to CetraRuddy co-founding principal John Cetra, FAIA, the promotions reflect diversity of design work as well as an evolving presence in cities across North America, including Washington, D.C., and Toronto, Canada.
"These nine professionals bring a wide range of talent and knowledge that reflect our continued commitment to holistic problem-solving and an ability to meet client objectives in new markets and sectors," said Cetra.
The newly promoted CetraRuddy leaders are valuable sources on a range of expert topics, from planning and design of large-scale multifamily residential, mixed-use, and market-leading restaurant projects to emerging best practices for mentorship, the firm said.