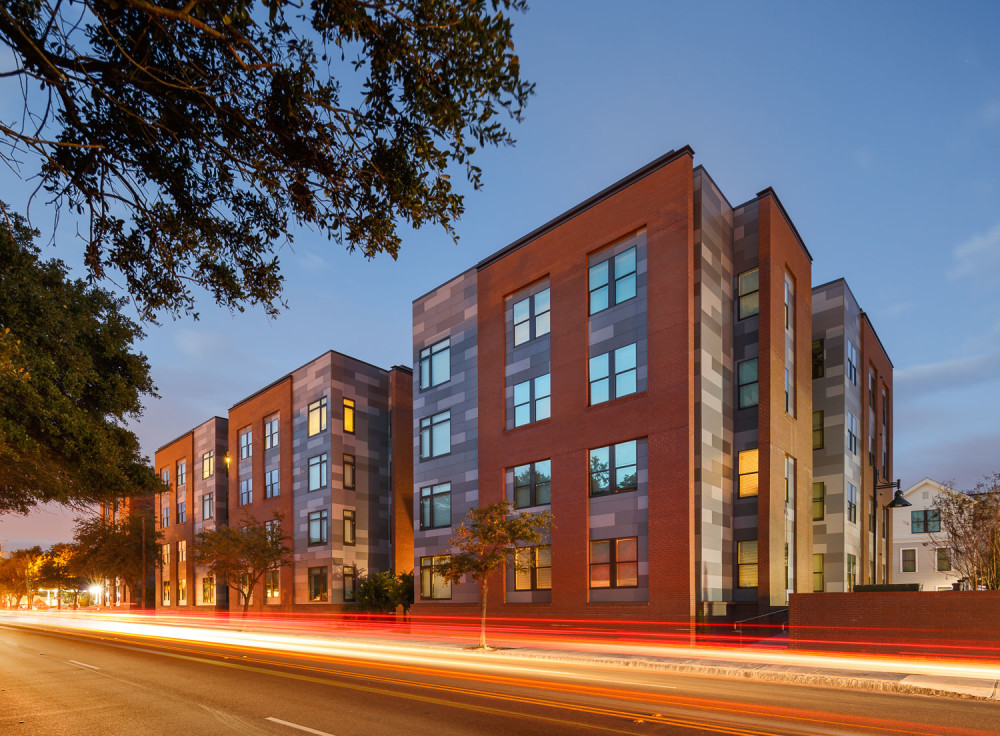 Maintaining a historical aesthetic while providing good longevity were the main requirements behind the design of a student housing project in Charleston, South Carolina.
Located in the city's downtown area, 400 Meeting Street Apartments presented its project team code and design challenges, which were largely dictated by the Charleston Board of Architectural Review (BAR).
To achieve an acceptable aesthetic that would fit with the historical architecture of other structures in the area, the team turned to proprietary fiber cement panels, which are a viable option for projects requiring durable materials and operating on tight budgets.
According to Stuart Barber, project architect for Charleston-based McMillan Pazdan Smith Architecture, explanation regarding the benefits of these panels was required on the part of the architectural review board, which was unfamiliar with the material as an effective and cost-efficient alternative to wood siding.
Although historic preservation was first and foremost, neighboring buildings were also of new construction, which helped in the design flexibility of this project. Barber said the fact the project was a student housing building also lent itself to more design flexibility.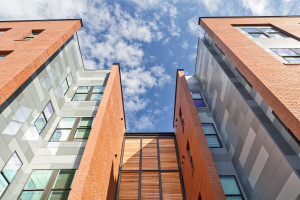 To enhance the building's contemporary architecture, the project team chose three shades of gray for the wall panels—50 percent of one color, 25 percent of another, and 25 percent of the third color—and arranged them like a checkerboard to cover 2137 m2 (23,000 sf) of the façade.
At the time of installation, this area of South Carolina experienced a large amount of rain. Further, the state's damp environment made the building's wood construction shift, as is often the case with wood-built structures in this region. As such, the shift affected panel installation, since the walls were no longer level. To accommodate this challenge, the panels' manufacturer suggested the use of shims to level the walls.