Chicago hotel opens atop city's historic landmark
March 19, 2021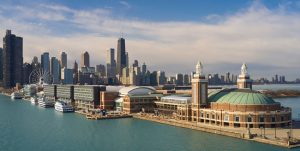 Sable at Navy Pier[2] is now open in Chicago, Illinois. It is the first hotel to break ground and make waves on one of the city's most iconic and historic landmarks.
The hotel offers sweeping views of Lake Michigan and the Chicago skyline. With an innovative and historically sensitive design by Chicago-based firm KOO[3], the hotel features 223 guest rooms and suites appointed with a nautical theme to incorporate the naval history of the city's pier, featuring weathered brass, ship building materials, and the use of smooth curves to illustrate that of a ship's interior cabin, along with a color palette of mixed neutrals which are highlighted by a spectrum of blues and blue-greens to pay homage to the lake.
Each room in the hotel has floor to ceiling windows with lake and skyline views. The angled surfaces of each room's window seat create a textured exterior allowing the ever-changing range of light, shadow, and color of the lake to reflect within the space, offering a unique perspective for locals and out-of-towners.
"I could not be more thrilled to be at the helm of such a unique and monumental hotel. The Sable will truly serve as an international destination in Chicago, considered one of the top cities in the world," said Laurent Boisdron, general manager, Sable at Navy Pier Chicago.
"We have long envisioned a hotel transforming this iconic cultural destination into a place where overnight guests can experience the most spectacular views of our lakefront and city. We are so thrilled that it has come to fruition," said Marilynn Gardner, CEO of Navy Pier. "The opening of this one-of-a-kind destination hotel and accompanying restaurant comes at a time when our city is ready to recover from the COVID-19 pandemic and guests from the region look to resume travel. Sable at Navy Pier will serve as the perfect respite and complementary addition to the many other treasured experiences at the Pier year-round."
With more than 400 m2 (4300 sf) of meeting and event space, Sable at Navy Pier will be able to host weddings, parties, and functions. The hotel was strategically designed to have three separate towers so guests looking to host an event have the option to rent an entire wing of the hotel to have extra space and privacy.
The name Sable is an homage to the historical vessel. During World War II, Navy Pier served as a training center for new recruits in the U.S. Navy and the homeport for USS Sable. Today, Lake Michigan surrounding Navy Pier is said to host over 143 aircraft assemblages that remain within its depth, representing the largest and most preserved groups of U.S. Navy sunken historic aircraft in the world.
Endnotes:
[Image]: https://www.constructionspecifier.com/wp-content/uploads/2021/03/Opener-19.jpg
Sable at Navy Pier: https://www.hilton.com/en/hotels/chipiqq-sable-at-navy-pier-chicago/
KOO: https://www.kooarchitecture.com/
Source URL: https://www.constructionspecifier.com/chicago-hotel-opens-atop-citys-historic-landmark/
---