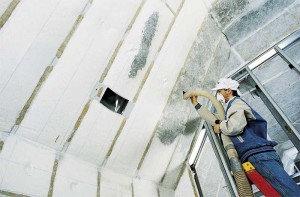 by Ted Winslow
Both fiberglass and stone wool insulation have merit, promote fire protection and sustainability, and offer value to architects, contractors, and property owners alike. This article's intent is to present a scientific examination of the benefits of using each, in particular with respect to meeting fire and acoustic requirements and codes.
Stone wool (sometimes called rock wool) insulation is not a new product, but its use is growing in the United States, thanks to improved distribution by several major companies. Its name derives from the manufacturing process in which the fiber materials are formed by spinning or drawing molten materials such as slag and ceramics or synthetic materials. Since there are various product subsets, its nomenclature involves putting the parent/raw material to wool (e.g. glass wool, rock wool, etc.).(For a more in-depth technical look at stone wool insulation and its variations, see the article, "The Sustainability of Rock and Slag Wool Insulation" by Angus E. Crane in the November 2008 issue of The Construction Specifier. To read it online, visit www.kenilworth.com/publications/cs/de/
200811/files/56.html).
Some consider stone wool easier than fiberglass to cut, handle, and fit into framing cavities. Further, many believe the material's batts to be more rigid, firm, and dense than their fiberglass counterparts. However, this is out of necessity, not by design. When glass fibers are spun to make fiberglass batts, the fibers are long. As a result, they hang together easily to make a cohesive batt. On the other hand, stone wool fibers are much shorter. Therefore, in order to keep the batts in one piece, they have to be packed to a higher density level and are heavier.
Nevertheless, a good number of installers believe stone wool to be the optimal choice for virtually any project, seeing it as essential to creating a high-performance insulation system in the most progressive builds.
Introduced in 1938, fiberglass is manufactured most often in two different forms—pre-cut batts/rolls and blown-in loose-fill—and is used primarily for thermal and acoustical purposes in wall cavities, attics, and other critical open spaces in building assemblies. Batt products come in pre-made R-values, ranging from R-8 to R-49, whereas loose-fill fiberglass can be blown-in with specialized machines and equipment to meet almost any thermal requirement. Blown-in fiberglass insulation also can be installed over existing batt insulation in renovation projects to increase overall R-value.
Since it is inert and does not settle, properly installed fiberglass insulation maintains its R-value over a long period. Batts and rolls must always be installed at their full designed thickness to achieve the stated value, as compressed fiberglass insulation loses thermal capability. For example, R-20 fiberglass insulation with a thickness of 160 mm (6 1⁄4 in.) is reduced to R-19 once compressed to 140 mm (5 1⁄2 in.). If the material is allowed to regain its original thickness, the full R-value is restored. Installers should always ensure the insulation completely fills construction cavities without gaps or voids.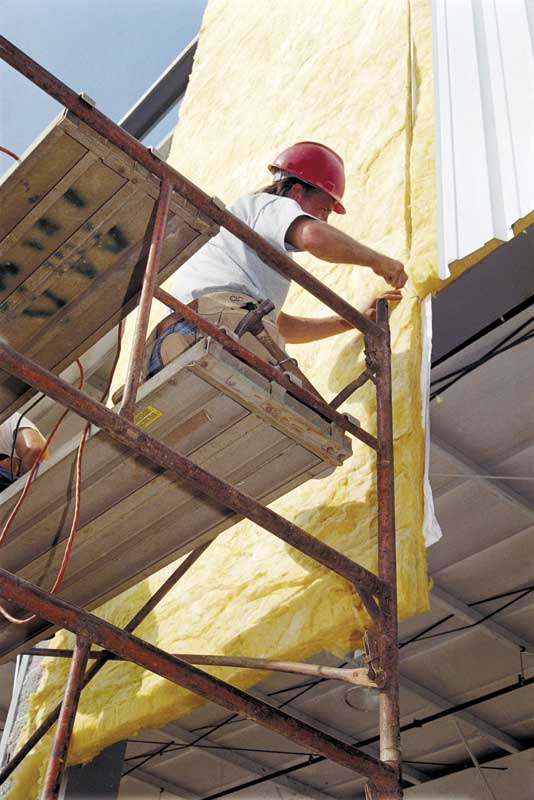 In addition, fiberglass is lightweight, flexible, and compression-packaged, speeding jobsite handling and installation, while minimizing warehouse requirements and transportation costs and demands. While batts can be cut to size, they are available in pre-cut sizes fitting standard wall cavities and wall heights, so productivity increases while cleanup is reduced.
Both stone wool and fiberglass share some advantages when it comes to installation. For example, downtime for the two materials is nearly zero in comparison with other insulations like cellulose (applied wet and requiring several days to set up prior to encasing behind drywall) or sprayed polyurethane foam (SPF), which demands 24-hour evacuation. Nothing more than a cutting tool, staple hammer, and minimal personal protective equipment (PPE) are needed to install batts, and no machines or power source are required. Similarly, no specific temperature is needed at time of installation to achieve maximum thermal performance (unlike some other insulation types).
Making a sound case
Before exploring how either material performs within an acoustical context, it is important to keep in mind insulation itself does not have a sound transmission class (STC) number—such ratings are indicated for an entire system, not its components. The use of any insulation can increase the partition assembly STC rating by four to 10 points, depending on the design and size (i.e. thickness) of the wall cavity.
Batts afford easy application of acoustical control to interior walls without altering build practices. Both stone wool and fiberglass soundproofing insulation are available in multiple panel packages, manufactured with good tolerances to fit snugly in between wall studs and ceiling joists. Full-wall assemblies with fiberglass or stone wool will perform comparably in curtailing noise. They fit into the cavities via friction press to ensure there is no air gap allowing sound to leak into adjoining rooms.
Insulation panels are 25 to 76 mm (2 to 3 in.) thick and are rigid enough to be easily cut to shape around electrical outlets and studs. A drywall saw can precisely cut out the notches to ensure each panel fits into place, while walls and ceilings can be finished off with standard or soundproof-grade drywall. No vapor barriers are required for use in interior partition walls.
In simplistic terms, insulation reduces sound's transfer through the air. The material used in the partition's structure determines how much sound vibrates through to the other side. Since metal studs have less surface area to transfer sound than their wood counterparts, they yield a higher STC in the wall system. Using resilient channels helps break some of the structural pathway sounds will travel.