Closing the gap: What to consider when choosing an expansion joint system
September 11, 2020
by Steve Cooper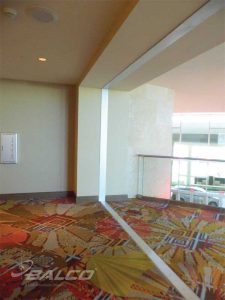 Everyone understands the importance of expansion joint systems. Their placement within floors, walls, ceilings, and roofs provide the wherewithal to stabilize large footprint structures from experiencing structural stress under changing conditions. However, there are some nuances to selecting the correct material for a building.
Under the principles of construction, expansion joints are required to move with the building, conform along with adjacent construction materials, support the required traffic, withstand the elements, provide life-safety fundamentals, and last longer than the warranty. All of these factors are taken into consideration by structural engineers, architects, and general contractors from day one. A variety of materials make up expansion joints, and it takes an expert to determine what is right for the application at hand.
Expected joint size and movement
When it comes to building construction, expansion joints are intentional separations—or gaps—filled with appropriate materials to provide the structure flexibility for movement to occur during temperature fluctuations, wind-loads, ground settlement or seismic movement, traffic vibrations, or added weight loads, with no damage to systems or surrounding area.
The first item to consider is how large the gap opening will be and the associated movement required in the building. This will steer an architect toward a specific set of products meeting that criteria. Secondary items for consideration are whether the said system is intended for interior or exterior applications and what sort of environmental conditions apply, such as weather and fire proofing, as well as structural load requirements for pedestrians or cars.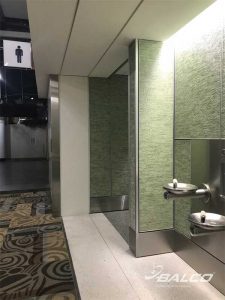 Understanding joint widths
Important points to consider are nominal, maximum, and minimum joint widths. Nominal widths are static and refer to the width of the joint opening at a median temperature. These measurements are determined by the structural engineer. Maximum widths are open, referring to expansion such as one occurring due to falling temps. Minimum widths are considered closed, as in the temperature has gone up and the gap has contracted in size.
For example, when a structural engineer is specifying how much of a gap should exist between two buildings and both are expected to move about 100 mm (4 in.) each, then a 200-mm (8-in.) gap is the minimum needed between the buildings. This is the nominal width. However, that space is going to expand and contract with thermal fluctuations. The buildings sway with wind-loads and seismic movement due to ground settlement or vibrations from traffic. Thus, the structural engineer needs to know the percentage of expected movement to determine the maximum and minimum widths.
The percentage of expected movement is very important when selecting expansion joint systems. If the concern is weather and seasonal changes, the consideration focuses on how well materials expand with heat or contract with cold. Simply put, an expansion joint allows for building parts that are joined together to move without distortion under thermal fluctuations— joints expand as temperatures go down and vice-versa. The larger the temperature variance, the more stress is placed on the structure.
If the concern is wind sway (especially important for tall structures and coastal buildings) or seismic movement (imperative for earthquake-prone and/or densely populated or high-traffic areas), the focus is how much 'give' materials provide. With wind-load, movement for both lateral shear (horizontal or side-to-side) and vertical shear (up and down) are taken into consideration.
Now, back to the example of the 200-mm gap between two buildings—if the expected range of movement is plus or minus 50 percent, then the structural engineer adds half the width of the original 100-mm gap for a 150-mm (6-in.) opening. If the expected range of movement is around 100 percent, then the structural engineer doubles the width of the original 100-mm gap for a 200-mm opening.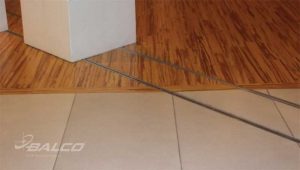 In some cases, the expected range of movement can get overlooked and that can cause issues with the building structure down the road. One example of this is adjacent construction near the expansion joint. Movement of an expansion joint and joint covers can interfere with nearby construction like doorways, windows, and other elements that could collide and become damaged or non-functional if a joint moves as fully designed.
Exposure to elements
Equally important is exposure to elements when selecting the size and type of expansion joint systems. Depending on placement, each of these concerns should be addressed before the final size is determined and the appropriate product is selected.
Exterior expansion joint systems are exposed to all sorts of weather conditions:
moisture from condensation, rain, snow, and ice melt;
dry-out from ultraviolet (UV) exposure and hot temperatures; and
erosion from wind, dirt, and flying debris.
Including the appropriate water barrier along with the rightly sized expansion joint system is a must. All the factors affecting a building's envelope are pertinent to expansion joint systems as well.
Interior considerations
Interior expansion joints must also handle thermal fluctuations due to the use of heating in colder months and air-conditioning in hotter months. With regard to flooring expansion joints, how that surface will be used and maintained impact the type of material selected. For example, lots of foot traffic means constant cleaning of carpet or tiles involving the use of heavy commercial-sized cleaning equipment and maintenance water.
The functionality of the space also requires consideration. The need for appropriate hygienic barriers to prevent contamination in large commercial kitchens, food storage, and prep areas, food manufacturing and packaging, surgical and clean rooms, and laboratories is critical for health and safety reasons.
Fire rating considerations
Finally, both exterior and interior expansion joint systems often need to be fire-rated as both a smoke and fire barrier. This helps to contain fire or smoke damage to a restricted area within the building or from extending to an adjoining structure. Gaps for expansion joints are cut through building materials that are firewall-rated, so inherently, all installed expansion joint systems will also need to be of the same fire rating as the adjacent floors, walls, ceilings, and roofs. Smoke and fire barriers are placed either below (i.e. floors) or behind (as in walls, ceilings, and roofs) the expansion joint systems.
Untangling the codes
For architectural expansion joint systems, the International Building Code (IBC) is the most common standard. IBC references performance standards and test criteria from the Underwriters Laboratories (UL) 2079, Standard for Tests for Fire Resistance of Building Joint Systems, and ASTM E1966, Standard Test Method for Fire-resistive Joint Systems, as well as other sources such as the Americans with Disabilities Act (ADA) and the American National Standards Institute (ANSI) to ensure public safety. ASTM International provides a specific code for joint expansion system movements—it is ASTM E1399-97 (2017), Standard Test Method for Cyclic Movement and Measuring the Minimum and Maximum Joint Widths of Architectural Joint Systems.
Using correct specs
Sometimes, sizing and load capacity are overlooked in planning. Canned or generic references are provided by product manufacturers, which are then dropped into architectural specifications when products are selected. These specs are generic to provide a general idea of load capacity, but do not take into consideration how the expansion joint system will be impacted by foot traffic, cleaning equipment, very heavy loads, and so on. Additionally, many canned specs are old or outdated.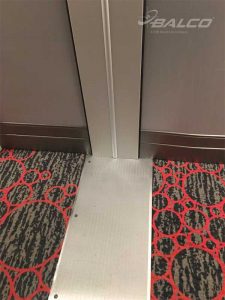 If the manufacturer says a product holds a load capacity of 907 kg (2000 lb), the question needing to be addressed is whether the 907 kg is for a contact area of 25 x 25 mm (1 x 1 in.) or 0.3 x 0.3 m (1 x 1 ft). That is a big difference in contact area and wrong calculations can cause wear, deformities, or damage. For example, if a pedestrian cover designed for foot traffic is used in a pallet jack pathway instead of one built to handle large loads such as carts, lifts, or shuttles, the cover plates of the expansion joint system can become dished or deformed, making it a bumpy ride or a tripping hazard for pedestrians.
The most common mistake made is an improper choice for traffic conditions. Expansion joint covers on floors are often thought of as pedestrian-only applications, but other unconsidered factors are heavy food, beverage carts, scissor lifts, and maintenance equipment that may also impact the joint covers and cause damage because pedestrian systems are too light-duty for these applications.
Expected placement and adjacent constructions materials
It is important to consider expected placement and the importance of adjacent construction materials, including wood, drywall, concrete, tile, concrete masonry unit (CMU), and carpeting. Adjacent materials, location, and functionality determine the mounting type. Options include surface mount, recess mount, and flush mount. The type of construction—whether new, renovation, or new-to-existing—also impacts the type of mountings used. For example, concrete blockouts are often employed in new construction to build a recessed joint for a smooth transition.
Expansion joints are placed where the building is most likely to have movement. They can be placed to join one floor to another, floor-to-wall, wall-to-wall, wall-to-ceiling, one ceiling to another, roof-to-wall, and one roof to another. Corners require due diligence in expansion joint placement because the materials are connected at multiple, intersecting points. This means adjoining building parts will move in both horizontal and vertical directions. If corner expansion joint systems are not designed and installed properly, structural damage such as vertical cracks will occur.
Expansion joints provide complete separations that frame out rooms, floor levels, building wings, or additions, as well as separation between buildings. Ideally, gaps should be minimal in size and the corresponding expansion joint system should be flexible enough to allow building parts to expand, contract, or shift while maintaining the connection. Materials differ depending on where they are used, but they must all work together to keep the building whole.
Transitions refer to the materials used adjacent to the expansion joint systems, and it is important these materials conform along with adjacent construction materials. For example, interior expansion systems must withstand foot and cart traffic, ADA compliance for slip-resistant flooring, and built-in fire, smoke, and water barriers. Flooring is a particularly important transition area. Floor finish materials like carpet, tile, marble, and finished concrete all have functional properties. One important property is their ability to deflect under maximum applied design loads. These materials can be incorporated into expansion joint floor systems for aesthetic purposes, but they must be properly specified, installed, and supported by the expansion joint system to keep the floor from cracking, spalling, or delaminating after installation.
Exterior expansion joint systems differ from interior systems as they must withstand the outside elements. Depending on the materials, exterior expansion joint systems need to withstand:
drying out or cracking from sun and heat exposure;
rust or deterioration from moisture, rain, snow, and condensation buildup;
dirt and debris from strong winds; and
weight loads on roofs.
Systems that can withstand frequent expansion and contraction without deteriorating are essential. This can be achieved with elastomeric systems in joints up to 100 mm and metal seismic systems in joints larger than 100 mm.
Several components can be built into expansion joint systems. Critical for safety and property protection, fire, smoke, and water barriers are common add-ons. Smoke blocks help isolate air leakage and keep smoke from spreading. These can be used alone or in conjunction with fire barrier and expansion joint covers.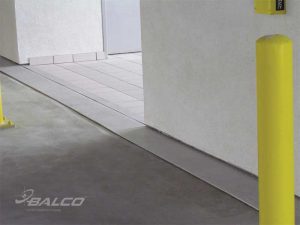 Water barriers are recommended both for exterior and interior applications. For exterior applications, water barriers help seal the building envelope from rain, snow, ice melt, and wind pushing water into expansion joint systems. Ideally, water barriers should be installed in buildings wherever water leakage may become a concern (i.e. exterior walls and floor areas prone to exposure to water from rain or maintenance like pressure washing to prevent water leakage between floor levels).
Extruded base frames provide protection between the adjacent materials and the joints, helping to extend the service life of both.
Aesthetics
The look of expansion joint systems depends on the architect's and building owner's vision. They can get creative and incorporate the expansion joint systems into the design in a visible or stylish way. Alternatively, they can make them as seamless as possible to blend in with the adjacent building material.
Rubberized materials such elastomeric, santoprene, polyvinyl chloride (PVC), ethylene propylene diene terpolymer (EPDM), neoprene, and silicone extruded or room-temperature vulcanizing (RTV) provide a flexible infill between the expansion joint system and adjacent material for a waterproof barrier that also responds to thermal fluctuations, seismic movement, traffic vibrations, or added weight loads. These materials are typically provided in standard factory color options to complement surrounding building finishes.
Metal finishes, especially in aluminum or stainless steel, are the current trend for both exterior and interior applications and can be provided with polished, painted, or anodized finishes. Kynar paints add durability and can match or complement surrounding materials.
There are endless possibilities when it comes to aesthetics. Architects work with both the engineers and contractors to ensure the expansion joint systems not only perform as they should, but also complement the building's design.
Getting set to spec
Structural engineers provide direction to the size of the gaps, expected movement, and placement of expansion joint systems. Architects and specifiers create the template for a project. General contractors follow the design plans, coordinate with suppliers or manufacturers, and perform installation of the expansion joint systems. It is also their job to ensure the appropriate substrate and adjacent materials are in place prior to the installation of the expansion joint system.
Generally, the manufacturers in the expansion joint industry have a standard one-year material defect warranty and a five- to seven-year warranty if it is supplied to certified installers. Periodic maintenance and cleaning of expansion joints serves as an opportunity for a visual inspection. Testing of expansion joints is generally handled by engineering firms on a project by project specification basis. It usually focuses on waterproof applications with the installer present at the tests.
Conclusion
Performance expectations are key to a proper, long-lasting fit for expansion joint systems. It is, therefore, important to include the supplier/manufacturer in the earliest planning stages of the project. They can review designs and plans, meet the project's engineers, architects, and contractors, and visit the jobsite to ensure the selected expansion joint systems will be a proper fit when the building starts moving.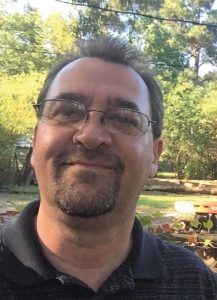 [6]Steve Cooper is vice-president of business development – building safety products, Balco. He has extensive experience in operations, sales, technical, and executive-level management. Cooper works with architects and engineers to develop proper specifications and designs using Balco products on large commercial and institutional projects, including  airports, hospitals, high-rise office buildings, and schools. He is a graduate of the Oklahoma State University School of Engineering and Tabor College of Business. Cooper can be reached at steve.cooper@balcousa.com[7].
Endnotes:
[Image]: https://www.constructionspecifier.com/wp-content/uploads/2020/09/5.jpg
[Image]: https://www.constructionspecifier.com/wp-content/uploads/2020/09/2.jpg
[Image]: https://www.constructionspecifier.com/wp-content/uploads/2020/09/3.jpg
[Image]: https://www.constructionspecifier.com/wp-content/uploads/2020/09/4.jpg
[Image]: https://www.constructionspecifier.com/wp-content/uploads/2020/09/6.jpg
[Image]: https://www.constructionspecifier.com/wp-content/uploads/2020/09/Steve-Cooper.jpg
steve.cooper@balcousa.com: mailto:steve.cooper@balcousa.com
Source URL: https://www.constructionspecifier.com/closing-the-gap-what-to-consider-when-choosing-an-expansion-joint-system/
---