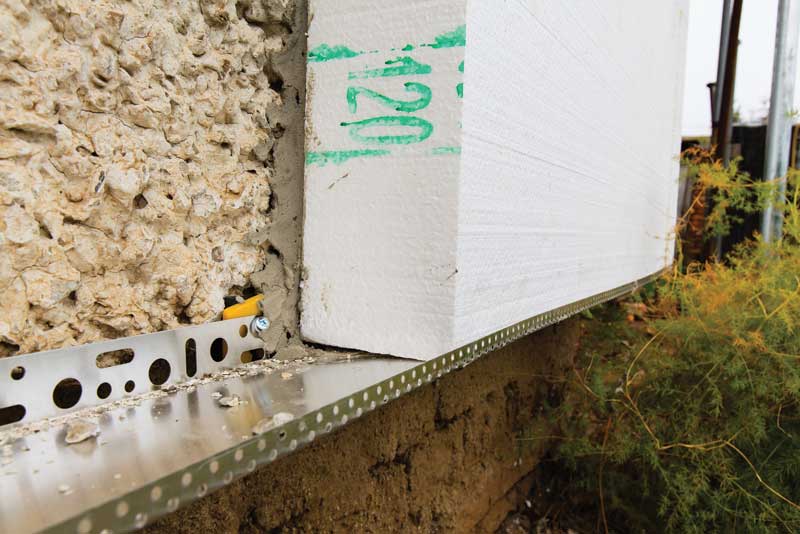 Perm rating comparison
A 'perm rating'—short for 'permeance'—is a standard measure of the water vapor permeability of a material. The higher the number, the more easily gaseous water can diffuse through the material. When using XPS insulation in wall assemblies, the perm rating drops from 1.1 to 0.7 to 0.6, as the thickness goes from 25 to 50 to 75 mm (1 to 2 to 3 in.). A material with a lower perm rating is better at retarding movement of water vapor. If the perm rating is low, the material is considered a vapor retarder. If it has a very low perm rating, it is labeled a 'vapor barrier.' It all ties in with substrate longevity.
The general rule is the better the vapor barrier and the drier the conditions the less venting required. In colder regions, vapor barriers should be installed on the warm-in-winter side of walls, while in humid areas, such as the Gulf Coast and Florida, it should be placed on the exterior walls. A vapor barrier on the warm side should be constructed with a venting path on the cold side of the insulation because no vapor barrier can keep all water out of a structure.
A perm rating of less than 0.1 is considered a Class I impermeable vapor retarder and is classified as a 'vapor barrier.' A rating between 0.1 and 1 is a Class II semi-permeable vapor retarder, and a perm rating between 1 and 10 is a Class III permeable vapor retarder. Any product with a perm rating greater than 10 is highly permeable and is not considered a vapor retarder. Unfaced 25-mm (1-in.) thick XPS has a perm rating around 1, and is measured as semipermeable. The perm rating for EPS is 5. More information is available from the U. S. Department of Energy (DOE) about vapor barriers and vapor retarders.
XPS is manufactured in both an unfaced form or with different plastic facings. However, XPS is considered a vapor retarder, not a vapor barrier.
Although higher densities of EPS have a greater compressive strength than lower densities, EPS is never as strong as XPS and is more susceptible to crumbling at the edges and to other jobsite damage, which is why EPS is rarely used for wall sheathing.
When applied as exterior wall insulation over sheathing, EPS should be installed over a water resistive barrier (WRB), such as house wrap. This type of rigid foam is usually not made with a facer, meaning workers must handle it with extra care.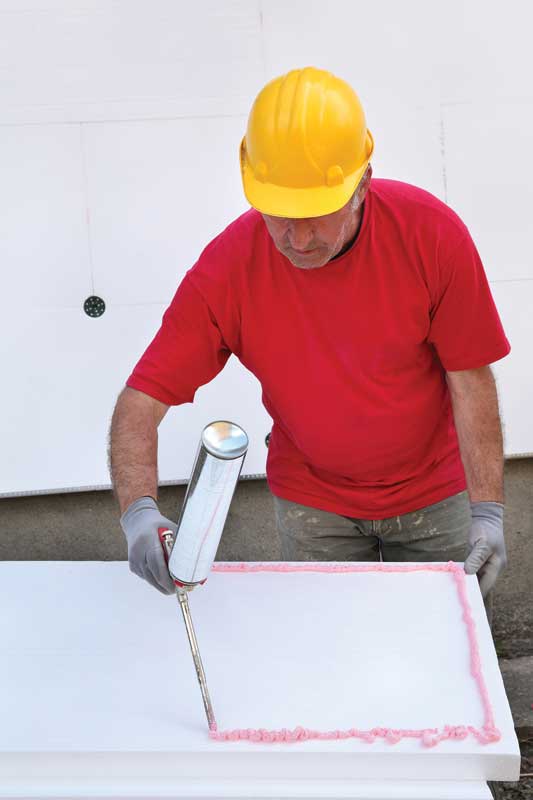 Insulation and fire performance
Reduced thermal capability at elevated temperatures is one example of how these insulations differ. EPS will soften at a temperature of only 73 C (165 F), which will reduce its thermal performance capability. At 100 C (212 F), EPS begins to melt and drip, which can result in the complete loss of the insulation's thermal efficiency. According to the EPS Industry Alliance (EPS-IA), under certain fire conditions, the material ignites when exposed to an open flame. The temperature for transfer ignition is usually around 360 C (680 F).
Although foam insulation is fairly difficult to ignite, the burning would readily spread over the exposed surface of EPS and continue to burn until the material is consumed. EPS is an oil-based product and its burning generates a heavy, black smoke that results in the production of harmful gases, including carbon monoxide (CO), monostyrene, hydrogen bromide (a corrosive acid), and other aromatic compounds.
This reaction to flame is also noted on the EPS industry organization website:
When burning, expanded polystyrene behaves like other hydrocarbons such as wood and paper. If EPS is exposed to temperatures above 100 C (212 F), it begins to soften, contract, and finally to melt. At higher temperatures, gaseous combustible products are formed by the decomposition of the melt. Whether these can be ignited by a flame or spark depends largely on the temperature, duration of exposure, and air flow around the material (i.e. oxygen availability).
Conversely, XPS, an insulating foam category called thermoplastics, is formed from non-cross-linked polymers and is able to be reheated and remolded. This makes XPS less rigid and pliable when exposed to a temperature of about 73 C. XPS insulation meets its melting point typically between 93 and 98 C (200 and 210 F). However, in extreme infernos, it too will be consumed by fire and emit noxious fumes.
As of last year, the European Union (EU) has banned hexabromocyclododecane (HBCD)—the brominated flame retardant used in all polystyrene building insulation, including EPS and XPS.
Considerable funds have been invested in developing a next-generation flame retardant for polystyrene insulation. The big question is whether the replacement flame retardants being considered are halogenated compounds (i.e. containing bromine or chlorine). Chemist and Environmental Building News advisory board member Arlene Blum, PhD, a leading expert on health and environmental hazards of halogenated flame retardants, is pleased with the ruling.
Sticking with a halogenated compound "Could mean we're moving from one toxic to another," Blum said. She suggests we should look at the bigger questions about flame resistance and safety. "It's time to ask what the fire safety benefits of these flame retardants are."