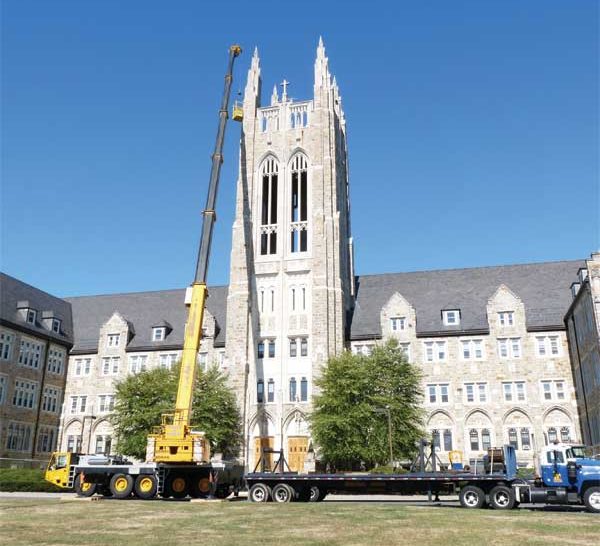 Data compilation: What to do with all that information
Different scopes and purposes lend themselves to different presentations of the data that has been collected. A detailed window survey, for example, might be best presented as a large-format compendium including elevation plans keyed to defect photographs and descriptions, along with the results of materials testing, invasive probes, infrared analysis, and water testing. An inventory that classifies the windows in each building according to defined categories of deterioration might be included in tabular and graphic formats.
More general condition surveys might begin with a list of buildings included in the report, accompanied by an overall photograph and basic description of the type of construction and materials. For each building, a more in-depth data sheet could provide a description of each exterior envelope element, including design, construction, materials, and observed defects. Supplemental photographs included with the data sheets provide documentation of typical conditions, as well as highlighting any deficiencies or deterioration. If infrared photography was used or testing was undertaken, the images and results would also be included for each building.
Following the analysis of observed conditions and test results, the building envelope assessment report should provide prioritized recommendations for repair and rehabilitation, including construction cost estimates for each line item and total projected cost broken down by priority level. To facilitate planning and budgeting, a summary document listing any recommended repairs by building is helpful. The report should culminate in a checklist of repairs prioritized based on remaining useful life, organized according to an established timeline. For example, 'Priority 1' might be within the next three years, 'Priority 2' within the following three years, etc.
An executive summary can distill these recommendations into key objectives aimed at highlighting significant findings and establishing facility management priorities for both immediate needs and the long-term health of the facility.
Use for future reference
In addition to building-specific information, the campus-wide building envelope assessment report may include reference information to help profesionals contextualize the findings. Glossaries of industry terminology, descriptions of typical roof, façade, and wall assemblies and their properties, and articles on building systems and best practices related to the types of construction found at the facility provide background and further information to guide rehabilitation decisions.
Rather than a bulky binder full of self-important verbiage destined to serve as a very costly doorstop, the multi-building condition assessment must be designed for practical use. Its well-thumbed pages should be indexed for quick reference, and they should provide user-friendly tables and illustrations that present rehabilitation needs in a format at once accessible and insightful. Cursory, oversimplified reports will not yield comprehensive building envelope upkeep strategies, and lofty, footnoted tomes are unlikely to generate any real-world solutions to the daily struggles of maintaining several buildings on a large campus.
Instead, the building envelope assessment should balance sophisticated technical inquiry with at-a-glance photographs and budget guidelines, which can be used for campus master planning and allocation of funds, with long-range projections for the best use of resources at different points in time. As a checklist for building envelope repairs, the report can guide restoration efforts over a period of years. For those conditions not demanding immediate attention, subsequent assessments can be incorporated into the rehabilitation schedule to track deterioration over time and intervene when appropriate. As a scheduling tool, budget planner, rehabilitation guidebook, and condition log, the campus-wide building envelope assessment provides practical strategies for the effective management of a multi-building facility.
Benjamin J. Robinson, AIA, is a senior architect with Hoffmann Architects Inc., an architecture and engineering firm specializing in the rehabilitation of building exteriors. As an experienced professional with more than 10 years at the firm, he oversees building envelope condition assessments and further develops rehabilitation master plans that apply state-of-the-art diagnostic methodology to a range of historic and contemporary building types. He may be reached at b.robinson@hoffarch.com.