by Annemarie R. DerAnanian, PE, and Mary K. Donlon, PE
Prefabricated wall panels are individually manufactured in an offsite fabrication shop, complete with exterior cladding and fenestration, anchor system, water/air/vapor barrier(s) and flashing, insulation, and the structural framing. They are then lifted and installed onsite. These panels have the potential to accelerate the building enclosure construction schedules, provide better quality control of the wall components, and reduce construction costs. However, the advantages of using prefabricated walls can quickly diminish if not used on the ideal type of building and without careful detailing of the panel joints and proper planning between trades.
Building and site considerations
Large buildings with a uniform or repetitive façade are better suited for panelization than a more complex one with lots of transitions, as the cost benefits of the system can only be realized if the sizes and shapes can be standardized into a few types of panels that can be installed throughout the building.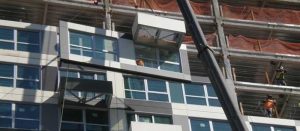 Prefabricated panelized wall systems can accommodate construction sites with limited laydown space and site clearances. With traditional, site-assembled building enclosure systems, all the project materials and tools need to be stored onsite and the construction debris must be cleaned and disposed of in large dumpsters. With panelized wall systems, all the materials, tools, and large dumpsters are at the fabrication shop. The completed panels can be stored at the facility and shipped to the project site on an as-needed basis where it can be installed directly from the truck to the building, which reduces storage and construction space requirements.
Lastly, panelized wall systems may not require exterior wall access via staging or multiple aerial lifts if the joint construction is designed accordingly. Enclosure panels can be installed with a crane with minimal interior labor to guide the panels into place.
Project schedule and cost impacts
When using prefabricated panels, one should assume a longer design and preconstruction phase. Prefabricated wall panels are proprietary to the manufacturer, and the contractor is retained earlier in the project in a design-assist role. Ideally, this occurs after the schematic design phase, but prior to design development. The panel design, joint layout, typical joint geometry between adjacent panels, and panel connection to the base building structure are dictated by the contractor with input from the design team. The panel integration with adjacent systems needs to be coordinated with the architect since they will maintain authority over the entire design as the designer of record. The building owner should expect greater upfront engineering costs in the design and preconstruction phases if a panelized enclosure system is selected, as the iterations of panel shop drawings are completed in this phase instead of the construction stage.