Construction firm Skender is embracing vertical integration by expanding its capabilities to the design sphere and building component manufacturing. The expansion includes significant investment in the launch of a new Chicago-based advanced manufacturing subsidiary and the acquisition of the boutique design firm Ingenious Architecture.
Skender has also recruited two notable industry figures: architect Tim Swanson, and construction technology innovator Kevin Bredeson. As part of the transformation, Skender Construction has rebranded as Skender, reflecting the expansion beyond its core construction business.
"Fragmentation has crippled our industry far too long," states Mark Skender, the company's CEO. "Our new business model revolutionizes how the industry builds by demolishing the silos between design and construction, and introducing manufacturing. Combined with our lean project delivery approach and culture of perpetual innovation, we can now fully realize the potential of vertical integration to significantly reduce risk, delays, and waste while maximizing value, quality, and positive experiences for our clients."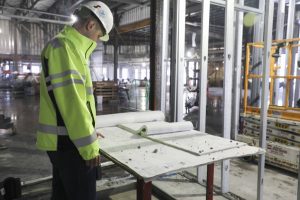 Skender culture is rooted in collaboration and the lean construction approach of waste reduction, transparency and ideation. "We are asking new questions," explains Justin Brown, Skender president and partner. "Why can't we apply sophisticated design principles to modular manufacturing? How can we eliminate weather delays by bringing large parts of the process indoors? How can we significantly boost productivity without sacrificing quality? We are not just rolling out a new business model—we're rethinking everything about building design and construction, from concept to completion and beyond."
Skender will open a manufacturing facility on the southwest side of Chicago to build modular building components. The company suggests relocating some or most of the onsite construction process to the manufacturing facility will centralize and stabilize labor, realize a standardized assembly line process for higher-quality building components, and eliminate weather-related delays during much of the construction process.
Both a CEO search and a rigorous facility selection process are currently underway; production is expected to launch in the fourth quarter of 2018.
Kevin Bredeson joins Skender as chief technology officer and Tim Swanson is chief design officer. Swanson, a regular speaker on the value of integrating design and construction, joins Skender from CannonDesign, where he led the Chicago office and the firm's national City Design practice.
To provide the design expertise required to fully integrate the building process, Skender has also acquired Ingenious Architecture, a team of 10 research-based, technology-savvy architects and designers. The new design team will work under Swanson's leadership to offer integrated services such as design-build, design-assist and design-for-manufacturing to new and existing healthcare, hospitality and multifamily clients.