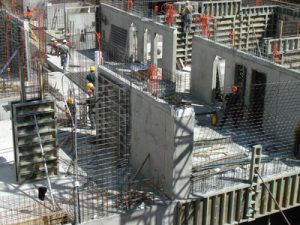 The price of new nonresidential buildings accelerated in October as contractors attempted to recoup fast-rising costs for materials and labor, according to an analysis by the Associated General Contractors of America (AGCA) of new Labor Department data. Association officials said trade tensions and labor shortages are contributing to higher construction prices, making it harder for public officials to improve aging and over-burdened infrastructure.
"Contractors and subcontractors raised their bid prices in November to make up for past cost increases, but the cost of goods and services they buy rose even faster," said Ken Simonson, the association's chief economist. "This makes further bid-price increases likely but also implies some contractors will just stop bidding on projects where costs are too unpredictable to ensure they can be built profitably."
Simonson observed the producer price index for inputs to construction industries—a weighted average of all goods and services used in construction—climbed 0.6 percent in October, following a 0.2 percent rise in September, bringing the 12-month increase to 6.6 percent. In contrast, an index measuring what contractors say they would charge to construct five types of nonresidential buildings had a smaller 12-month gain—five percent—despite having jumped two percent in October. The larger increase in contractors' costs than in their bid prices implies a squeeze on profit margins and sets up the prospect of further bid-price increases, the economist said.
Metals and petroleum-based products registered the largest increases among construction inputs, Simonson noted. He pointed out from October 2017 to October 2018, there were producer price index increases of 18.2 percent for steel mill products, 11.6 for asphalt paving mixtures and blocks and 8.2 percent for aluminum mill shapes.
"It appears the tariffs imposed on steel, aluminum, and thousands of Chinese imports are starting to affect the cost of many items used in construction," Simonson said. "As inventories of goods purchased before the tariffs took effect are depleted, contractors are likely to face even higher costs, which they will need to put into their bid prices if they hope to make any profit on future projects. At the same time, labor costs are accelerating. The Labor Department reported average hourly earnings for all employees in construction rose 3.9 percent in the 12 months through October—the fastest pace in nearly 10 years."
Association officials said higher construction prices are likely to undermine future public-sector investments in infrastructure and could stifle demand for new private-sector developments. They urged Washington officials to resolve trade disputes and remove costly tariffs. They called on Congress and the administration to work together to double investments in career and technical education over the next five years.