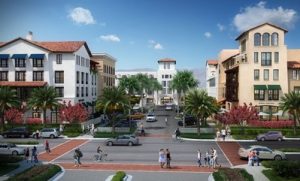 A 2.4 ha (6 acre) mixed-use development is soon to begin construction in Montclair, California.
Designed by New Urbanist firm Torti Gallas, Village at Montclair is a 350-unit, Type-V mid-rise community project. It has been planned as a walkable transit village with housing, ground floor retail, and public spaces including a Village Square and Station Promenade.
The development celebrates the inviting Mediterranean climate and San Gabriel Mountain views of Montclair. It includes a mixture of Spanish and Italian architecture, abundant public space, walkable streetscapes, landscaped courtyards, and a rooftop deck. Warm, modern interiors by Mannigan Design thoughtfully complement the architecture.
The project is located within the city's North Montclair Downtown Specific Plan. The plan covers 81 ha (200 acres) of land surrounding Village at Montclair and sets the standards for creation of an urban, walkable district, with up to 2500 new residential units and commercial space planned over the next decade.
Construction of Village at Montclair will commence this month by general contractor Johnstone Moyer Inc.