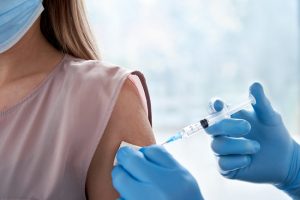 The Centers for Disease Control and Prevention's (CDC's) Advisory Committee on Immunization Practices (ACIP) has released the "Phased Allocation of COVID-19 Vaccines," which places construction workers in the 'Other Essential Workers' category. This means construction workers will likely get the vaccine in Phase 3 of the rollout program, after 'Frontline Essential Workers.'
Phase 3 includes "workers in industries and occupations important to the functioning of society and at increased risk of exposure not included in Phase 1 or 2." According to the CDC document, construction workers fall under the 1C vaccination phase along with workers in transportation and logistics, food service, finance, IT and communication, energy, media, legal, public safety (engineers), and water and wastewater.
"The third phase could start from February to late spring if the vaccination program goes smoothly," Engineering News-Record reports.
"The guidelines, built on federal classifications for essential workers created earlier in the pandemic, are believed to cover all types of construction workers, regardless of project or trade," Brian Turmail, a spokesman for the Associated General Contractors (AGC), said to Engineering News-Record.