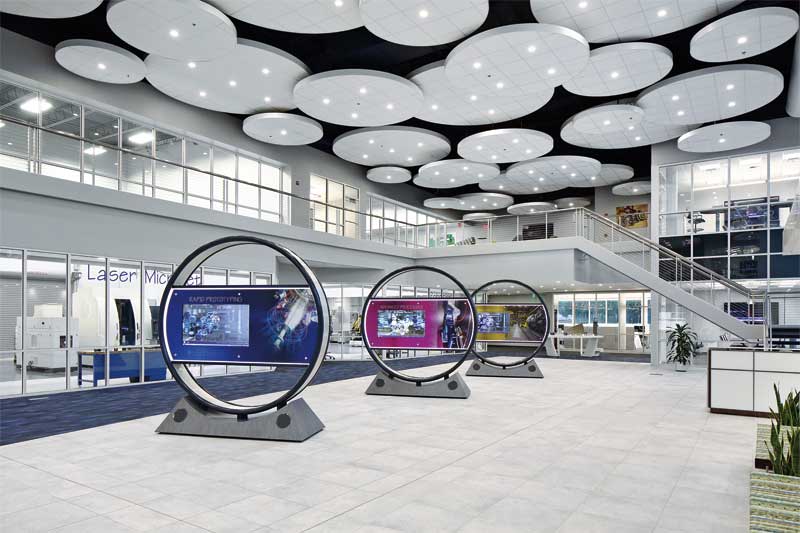 Baffles
In addition to a variety of horizontal acoustical treatments, vertical treatments in the form of baffles and blades also help control noise in exposed structures. Like acoustical clouds and canopies, baffles and blades provide excellent sound absorption because sound is absorbed on both the front and back surfaces.
Baffles and blades are both suspended vertically to impart an upscale visual while providing substantial sound absorption. The most common baffles are made from wood fiber or fiberglass. Wood fiber baffles feature a coarse texture and are offered in a natural finish, painted white, or custom colors.
Fiberglass baffles are usually 0.6 x 1.2 m in size, and offered in numerous standard finishes, including woven fabrics and nylon sailcloths. Fabric-wrapped baffles are usually 50 mm (2 in.) thick while sailcloth baffles are 12.5 mm (1½ in.) thick. In addition to standard choices, custom options are also available to meet project needs. These include sizes and shapes up to 1.2 x 2.4 m (4 x 8 ft), thicknesses from 25 to 50 mm (1 to 2 in.), and square, stitched, beveled, mitered, or radiused edge details.
Suitable for either new construction or retrofit, one fiberglass baffle per 4 m2 (40 sf), or 20 percent coverage, reduces reverberation time on average by approximately 50 percent. This makes them a good choice for use in exposed structure spaces such as auditoriums, gymnasiums, music rooms, and other open areas where sound absorption is needed.
In terms of installation, fabric-wrapped baffles are normally mounted with eyehooks, and sailcloth baffles with grommets. Installation is easy because all the components needed to suspend a baffle are normally contained in a hanging kit, including sleek, adjustable aircraft cable that imparts a clean look to the installation.
Blades
Blades offer another vertical acoustical solution for exposed structure spaces. Blades impart a much more linear visual than baffles while still providing excellent sound absorption.
The linear panels are offered in fiberglass, wood fiber, and metal versions. Metal panels must be perforated and include an acoustical fleece to obtain the desired acoustical performance. Fiberglass panels, which are the most common, are usually 50 mm (2 in.) thick and available in numerous standard sizes, shapes, and colors. Custom colors are also available. Standard panel profiles include rectangular, convex, concave, and curved for wave designs.
Panels are pre-assembled with metal hanging clips embedded in the top of each panel for easy installation from a standard suspension system. They can also be hung individually from the deck.
Blades are well suited for enhancing office, education, and retail spaces acoustically and aesthetically in either new construction or retrofit applications. When installed in a reverberant space, they can significantly reduce background noise and reverberation time, enhancing speech intelligibility.
Case study
Wacom, a high-tech manufacturer of interactive pen displays, recently moved its North American headquarters from Vancouver, Washington, to a new space in Portland, Oregon. As part of the relocation, company management desired an interior design that was far different from the traditional office space at its previous location and one that would entice prospective new employees.
To impart the industrial "feel" it desired, company management wanted a completely exposed concrete ceiling. However, because of all the hard surfaces in the space and the completely open work areas, the design team at SRM Architects in Portland knew some kind of acoustical treatment would be necessary.
To preserve the look of the exposed ceiling while providing acoustical control, the team chose blades.
"They proved to be the happy medium between a fully exposed ceiling and the acoustical performance we were looking for," explains architect Stacie Fischer. "They are definitely one of the best solutions for retaining the open structure look while providing acoustical control," she adds.
At Wacom, nearly 300 panels measuring 250 mm (10 in.) wide x 2388 mm (94 in.) long x 50 mm (2 in.) thick were installed throughout the space.
Fischer notes the Wacom open floor plan lent itself well to the use of blades.
"The blade layout appears to be randomly patterned, but the panels are actually clustered over workstation areas for better speech intelligibility."
Blades were also installed in the private offices. "This is rather unusual, but we wanted to provide a level of speech privacy that these types of spaces require," says Fisher.
Conclusion
Exposed structure spaces usually need some type of sound absorbing elements to control noise and reverberation. Figure 1 (page 53) documents the difference in reverberation time and overall sound level the installation of various acoustical ceiling treatments can make. Results for a continuous or "wall-to-wall" ceiling in the space are also included for comparative purposes.
Sean D. Browne is the principal scientist for Armstrong Ceiling & Wall Solutions in Lancaster, Pennsylvania, where he leads Armstrong's acoustics program. A member of the Acoustical Society of America (ASA) and ASTM, Browne has engineering degrees from Florida State University and the University of Miami. He holds a patent for a power and signal distribution system for use in interior building spaces, and has been published in the journals of the International Symposium on Room Acoustics and ASA. He can be reached at sdbrowne@armstrongceilings.com.