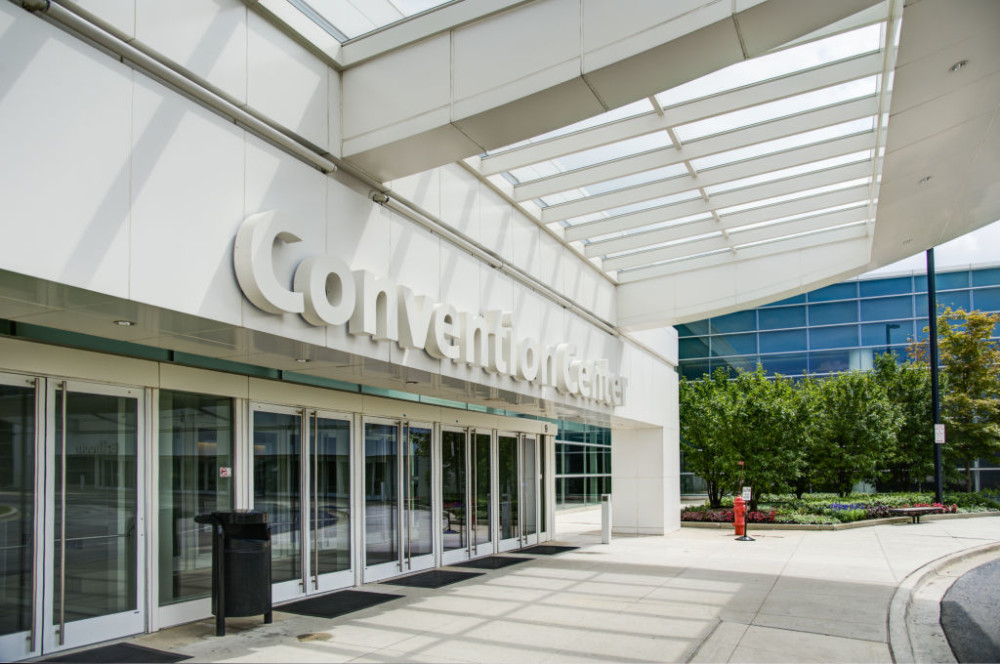 The Renaissance Schaumburg Convention Center Hotel, built in a Chicago suburb in 2006, hosts hundreds of events annually. The large influx of visitors resulted in the struggle of keeping up with paper towel refills, until an electric hand-drying option was specified.
With more than 13,805 m2 (148,600 sf) of meeting and event space, and attendee capacity reaching more than 6400, the restroom facilities must function reliably and efficiently.
"We were challenged by keeping up with the amount of paper towels used during busy events," said the center's director of engineering Robert Lang. "We decided to explore other options to limit the amount of waste and still maintain cleanliness and guest safety."
Ultimately, an electric hand-dryer was specified for its quiet operation and ability to contain water rather than spilling it onto the floors and walls.
Controlling atmospheric sound is an important requirement for rentable spaces that host speakers, business meetings, and ceremonies. Conventional hand-dryers can be loud, allowing sound leakage into spaces beyond the restrooms.
High-speed hand-dryers can better contain excess noise and vibration due to dampeners and concentrated air jets. The sound of the specified system at the Schaumburg hotel is quiet at 61 dB—the rough equivalent of standard elevator music or restaurant conversation. However, quiet operation does not compromise effectiveness; the system features air speed of 379 km/h (237 mph) and two jets of air, drying hands in an average of 10 seconds.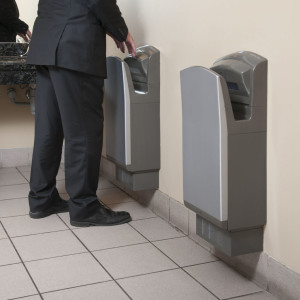 Beyond sound control, certain hand-dryers can offer benefits in cleanliness.
"We find our guests are increasingly conscious about sanitation in crowded public areas, especially the restrooms," said Lang.
It was also important for the facility to have enough drainage for the excess water. The specified drain tank collects water from users' hands. Because of this feature, NSF International certified the system for meeting its health and safety requirements, specifically NSF 169, Special Purpose Food Equipment and Devices. Other hand-dryers can drain the excess water onto the surrounding walls and floors, creating water hazards and leaving trails for bacterial growth.
The drain tank saves maintenance employees time, as it typically only needs to be emptied at the end of the day during routine restroom cleaning. The drain tank also minimizes the risk for water damage and eventual deep-cleaning of tile and grout.
The Renaissance Schaumburg Green Committee is an ongoing internal review initiative monitoring methods to reduce landfill waste and bolster sustainable practices onsite.
"Our first step was to review our current recycling program in the exhibit areas and provide a cost study on the impact of high-speed hand-dryers," explained Lang. "The next logical step for us was to narrow our focus to areas that produced the most waste and see how we could modify our products or behaviors. Restrooms are perhaps the highest producer of paper waste, so installing electric hand-dryers lent itself to the broader scheme and goals of the facility."
In addition to minimizing paper waste, the energy-efficient operation can further contribute to facilities' sustainability goals. Further, at the recommended mounting height of 940 mm (37 in.), the hand-dryers conform to all Americans with Disabilities Act (ADA) regulations for those using wheelchairs or with visual impairments.