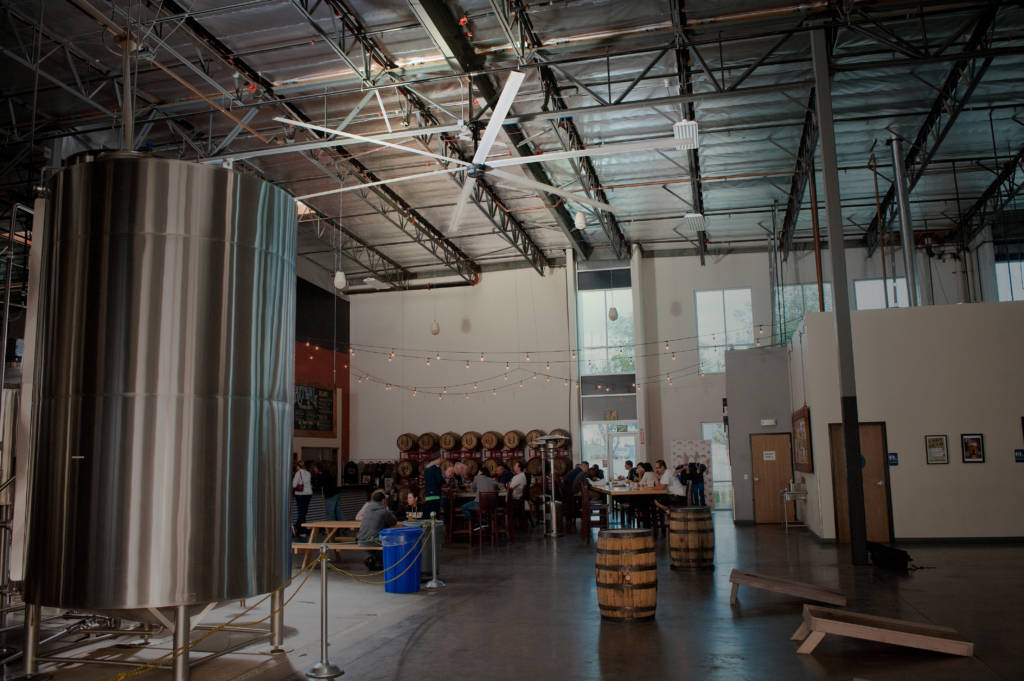 A recent installation of a massive ceiling fan at Ritual Brewing in Redlands, California, has greatly improved the overall mood at the establishment. Located in an industrial building with an interior roof height of 7.3 to 8.5 m (24 to 28 ft), the 2202-m2 (23,700-sf) space was difficult to keep at a comfortable temperature. Staff at the brewery observed temperatures creeping up to 38 C (100 F), with no possibility of the stagnant space cooling down overnight. The lack of air circulation was frustrating for both customers and employees.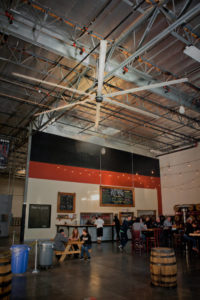 The staff initially employed large floor fans to see if they could improve the space's air circulation, but found objects and persons in the line of airflow direction caused resistance. To solve the dilemma, Ritual's co-founder Owen Williams turned his attention to the ceiling and decided to install the largest high-volume, low-speed (HVLS) fan he could find.
Designed for extra-large spaces (i.e. warehouses and big-box retailers), the 7.3-m (24-ft), six-blade fan can move 9798 m3 (346,000 cf) of air per minute. The 2.10-horsepower installation features variable speeds—controlled by a digital remote—ranging from a gentle breeze to a gusting wind. In addition to its cooling features, the HVLS fan is dual-directional and able to pull warm air down from the ceiling during the winter to maintain consistent temperatures year-round. A gearless design ensures the unit is quiet, with added safety features including an automatic shut-off if the fan is struck by an object or shaken by an earthquake.
The improvement to the building's air circulation was immediate. Staff morale improved and Ritual's customers were able to relax and enjoy a selection of beers in a comfortable environment.
"Besides making beer, this is one of the smartest decisions we have made to keep our clientele happy," says Williams. "It creates a better experience."