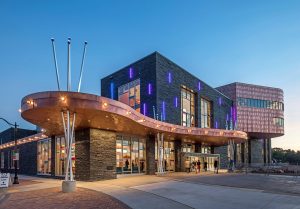 The Pablo Center at the Confluence in Eau Claire, Wisconsin, by Holzman Moss Bottino Architecture is the recipient of the 2019 North American Copper in Architecture (NACIA) award in the 'New Construction' category.
The award recognizes excellent uses of copper and copper alloys in residential, educational, and government buildings. From a new copper clad university building seeking Leadership in Energy and Environmental Design (LEED) accreditation to a restored 100-year-old copper roof, ten buildings earned a spot among the awards.
The annual awards program highlights craftsmanship, attention to detail, and architectural vision.
"The 2019 winners display a great balance of innovative wall cladding structures and historical restoration projects, which is very indicative of the architectural trends we are seeing across North America," said Stephen Knapp, the director of the strip, sheet, & plate council for the Copper Development Association (CDA). "Copper is truly one of the most versatile and sustainable building materials available. As the green building trend continues, we expect to see the material increasingly utilized to achieve various certifications and environmental goals."
All submissions are judged and reviewed by a panel of copper and architectural experts based on building design, use of copper and technique throughout the project, copper installation, and when applicable, historic renovation.
Other winners in the 'New Construction' category include the Arizona State University's Biodesign Institute C in Tempe, Arizona, by ZGF Architects, Coolidge Corner School in Brookline, Massachusetts, by HMFH Architects, Gap Cove House in Rockport, Massachusetts, by Ruhl Studio Architects, Hidden Path Residence in Shelter Island, New York, by Bohlin Cywinski Jackson, Lamplighter School Innovation Lab in Fayetteville, Arkansas, by Marlon Blackwell Architects, and Midtown Center in Washington D.C., by SHoP Architects.
Winners in the 'Restoration' category are Dartmouth College's Baker Tower in Hanover, New Hampshire, Steeples Square in Dubuque, Iowa, and the Hispanic Society of America Museum and Library in New York, New York.