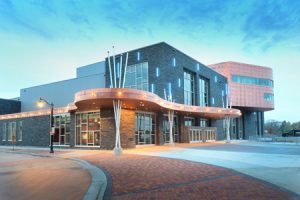 The Pablo Center at the Confluence in Wisconsin fits into its site where the Eau Claire and Chippewa Rivers meet, using traditional and practical building systems such as insulated metal panels (IMPs).
"The location along the river played a big part in the design process," says Gilbert Oh, AIA, LEED AP, at New York-based Holzman Moss Bottino Architecture. "Metal panels were a pragmatic decision because of the insulation. The depth of the panels helps the appearance because they are high up and we did not want that look to get lost from the street."
More than 2778 m2 (29,900 sf) of IMPs were installed on the project. IMPs were filled with a 76-mm (3-in) urethane core. The 22-gauge exterior metal on the panels is weathered zinc, and the 26-gauge interior metal on the panels is white in color. The metal wall panels feature distinctive 38-mm (11/2-in.) high ribs on 183-mm (7.2-in.) centers. The IMPs house the main theater.
Additionally, the façade uses 1672 m2 (18,000 sf) of shop-fabricated copper, and a 89-mm (31/2-in) sawn height of Aqua Grantique stone.
"The stone is Wisconsin stone, mined less than 80 km (50 mi) from the site," Oh says. "That was important because historically, a lot of Eau Claire structures are built using masonry; it is more brick than stone, but it is a familiar look in the area. The curved copper extends as close to the river as possible and it contrasts the stone."