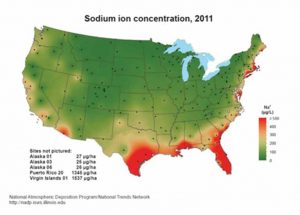 Chrome pretreatment, combined with a strong-adhering chrome primer, is one of the most effective coating solutions for preventing the proliferation of filiform corrosion on aluminum substrates. Although chrome pretreatments and primers will not stop filiform corrosion from occurring, they do prevent it from proliferating.
Three pretreatment options most commonly used for aluminum substrates are:
hexavalent chrome;
trivalent chrome; and
chrome alternatives.
Hexavalent chrome
Hexavalent chromium is also referred to as "hexavalent chrome Cr(VI)," "Cr6" or "chrome-six." It has a gold, yellow, or green appearance and offers the most robust corrosion protection resistance. It has been used in the industry for 50 years.
While hexavalent chrome is one of the most robust options for corrosion protection, it also is the least safe for the environment and human health, as it is both toxic and carcinogenic. Due to its toxicity, hexavalent chromium has been placed on the Red List of products to avoid by administrators of LBC, one of the world's most rigorous green building certification systems. Other environmental organizations often reference the Red List when creating their own restricted substance lists.
A major performance benefit associated with this material is its wide operating window. AAMA specifications require minimum coating weights of 40 mg/sf for this type of pretreatment system, although many applicators apply up to 100 mg/sf to optimize protection. It is essential for applicators to find the coating weights best suiting the performance demands of their product or application. If the pretreatment is applied too thinly, it is vulnerable to corrosion, but if applied heavily, it can turn to powder and cause a loss of adhesion between the pretreatment and the paint surface.
Trivalent chrome
Trivalent chrome is referred to as "Cr3" or "chrome-three," and features a lower concentration of chrome than hexavalent chrome. Trivalent chrome has proven to be an effective corrosion prevention solution, but it still does not facilitate the goal of fully eliminating heavy metals from the waste stream. Although it is not currently considered carcinogenic, trivalent chrome is still a heavy metal and likely to be placed on the Red List in the future.
Its appearance is clear, though additives are often used to indicate the presence of a coating. Trivalent chrome does not have the same level of corrosion protection or self-healing properties as hexavalent chrome, but it can be an effective corrosion deterrent if applied within the correct parameters.
Chrome, not intentionally added (NIA)
Pretreatments specifically formulated without intentionally added 'chrome three' or 'chrome six' have been developed and commercialized in recent years. While they offer excellent corrosion resistance, they are not as robust as legacy chrome alternatives.
In the applicator's process, chrome (NIA)-containing pretreatment products have tighter operating tolerances. When these materials are run, they demand shorter test intervals to assure the chemicals are being applied at optimum performance levels. Operating outside of these rigorous tolerances can diminish the corrosion protection performance of the finished product. Failure to maintain tight operating conditions can lead to process failures and negative results. For this reason, it is important to test these pretreatment systems at frequent intervals during the application process to make sure the chemicals remain within specification. With chrome (NIA) they have to check, in some cases, every hour. Intervals vary by the pretreatment chemical company.
One proof of this phenomenon was evidenced years ago in the coil industry. Responding to demand for more flexible pretreatment options to help fabricators improve their post-forming operations, the coil industry began converting to complex oxide pretreatment systems. Before long, corrosion failures on metal roofing resulting from acid rain fallout became a problem in the 'rust belt' areas of the United States.
Continued rise of chrome pretreatment alternatives
With environmental regulations becoming stricter around the globe, there is a growing demand to fully eliminate not only chrome pretreatment, but also chrome primers and chrome-containing multilayer coatings systems from industrial and architectural coatings systems. This is especially true in the European Union (EU), where legislators have mandated the elimination of several hexavalent chrome compounds from most paint system by end of this year.
Most U.S. pretreatment systems use chrome phosphate, which has excellent adhesion but less throw (i.e. protection beyond application area) protection on the edges of a metal surface. Chrome-chromate, which is not often used in the U.S., has less adhesion strength but more throw power and can be considered self-healing.
In Europe, manufacturers are pursuing two different pretreatment alternatives. The first is improved etching with acid cleaners to remove more oxide from aluminum surfaces. While cleaning a metal surface is probably the most important step in preparing it for painting, removing aluminum impurities—along with oxides and oils—may be the most significant step in coating it. Acid-etching has proven to enhance the ability of coatings to adhere to aluminum surfaces, and thereby, improve their corrosion protection.