Film erosion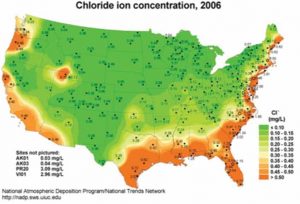 Film erosion is most commonly associated with coatings that are not ultraviolet (UV)-durable and, therefore, susceptible to chalking. Severe chalking causes paint film to deteriorate or erode at a high rate, ultimately exposing the metal substrate underneath the paint to moisture and other hazards that initiate the corrosion process.
Geography of corrosion
As Figure 2 illustrates, buildings and metal structures along the U.S. Gulf Coast and Eastern Seaboard are susceptible to corrosion failure due to the preponderance of heat, humidity, salt, and wind. According to most architectural metal coatings manufacturer warranties, a seacoast region is defined as an area from 457 m (1500 ft) up to 1.5 km (1 mi) inland from the coast. As the chart in Figure 2 indicates, salt concentration drops significantly after 1.5 km inland, as defined by the level of sodium and chloride ions in the atmosphere. However, moist, salt air from the sea can carry well beyond those distances. In fact, wind (at times, hurricanes) have been known to carry sea salt several hundred miles inland from coastal areas.
While that reality makes buildings throughout the state of Florida vulnerable to corrosion failure, the structures most susceptible to such damage are located in areas experiencing high levels of crashing surf and salt mist. Luckily, abundant rainfall in the Sunshine State and other southern coastal regions helps mitigate corrosion by rinsing salt residue from buildings (although any metal building parts located under an eave or shielded from rainfall remain vulnerable to corrosion).
Buildings in northeastern U.S. are less exposed to the corrosive warm and humid conditions than those in Florida and southeastern U.S., yet the proliferation of winter road salt can yield similar results. In large cities, such as New York, Boston, and Philadelphia, road salt has been shown to reach surfaces as high as 20 stories from the ground, due to the wind tunnel effect created between tall buildings.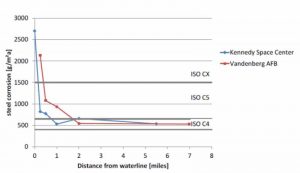 While all coastal locations are susceptible to salt air corrosion, the West Coast is not as severely affected due to the dryness
of the air. Filiform corrosion requires humidity in excess of
40 percent to develop. Nevertheless, corrosion maps show salt can travel from the Sea of Cortez in the Baja Peninsula to noncoastal areas as far inland as southern Arizona.
Current industry standards
The International Standards Organization (ISO) has developed standards to rate interior and exterior environments according to their respective degrees of risk for corrosion (Figure 3). Ratings within ISO 9223, Corrosion of metals and alloys – Corrosivity of atmospheres – Classification, determination and estimation, are determined by weighing a steel panel, exposing it to a specific environment for one year, and then re-weighing the panel again to measure the degree of weight loss that occurred during that time.
For example, an exterior environment designated as C2 (C stands for corrosion) represents a rural area with low levels of pollution, while an exterior environment with a C5-M designation identifies a harsh coastal environment with high levels of salt air.
Accelerated corrosion testing and AAMA standards
AAMA has also developed industry standards for various levels of corrosion performance, commonly referred to as AAMA 2603, Voluntary Specification, Performance Requirements and Test Procedures for Pigmented Organic Coatings on Aluminum Extrusions and Panels (with Coil Coating Appendix), AAMA 2604, Voluntary Specification, Performance Requirements and Test Procedures for High Performance Organic Coatings on Aluminum Extrusions and Panels (with Coil Coating Appendix), and AAMA 2605, Voluntary Specification, Performance Requirements and Test Procedures for Superior Performing Organic Coatings on Aluminum Extrusions and Panels (with Coil Coating Appendix). Each standard contains laboratory-based accelerated test methods that were adopted to mimic, as closely as possible, corrosive conditions in the real world.
Historically, the primary test method had been the Salt Spray Fog Test per ASTM B117, Standard Practice for Operating Salt Spray (Fog) Apparatus. During this test, coated panels are exposed in a chamber to a constant mist cloud containing a five percent sodium-chloride solution at a sustained temperature of 35 C (95 F). The test requirement to meet AAMA 2605, the industry's most rigorous performance standard for weathering performance, was 4000 hours. Recently, AAMA eliminated the 4000-hour salt spray specification, determining a new accelerated corrosion test method—the G85 Annex 5 cyclic corrosion test—better mimics real-world corrosion.
Corrosion-resistant pretreatment technologies
For the past 50 years, the building industry has relied on zinc-coated steel and/or chromium pretreatments in combination with chromium primers to protect steel and aluminum building components, especially from corrosion, in industrial and coastal environments. Chrome also enables coatings to adhere more strongly to the metal surface.