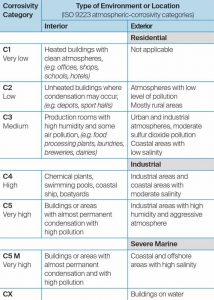 The second alternative is flash anodizing to impart a fine layer of protection to the surface of the metal to prevent the formation of filiform corrosion. Filiform corrosion cannot form on an anodized layer. Anodizing does not perform as well as coatings, but it can be good as a preparation for metal under the coating. Coatings adhere well to anodize before they are sealed. Adhesion is difficult after sealing. Also, flash anodizing does not seal.
Corrosion-resistant coatings systems
The need to protect metal from corrosion is not restricted to the substrate and pretreatment layer. This section summarizes the advantages and disadvantages of the following four major corrosion protection layers and/or systems and components for building products:
pretreatments;
primers;
clearcoats; and
one-coat systems.
Pretreatment
Real-world results and south Florida accelerated exposure testing have demonstrated coatings systems containing a layer of chrome in the pretreatment or primer will perform to expectations. Recent experience has shown non-chrome-containing systems can lead to serious corrosion and safety issues on buildings when improperly applied.
Primers
Primers are as important as pretreatment methods in protecting metal substrates from corrosion because they make coatings adhere more readily to metal surfaces and provide an excellent barrier against moisture penetration. While primers are formulated to adhere to metal and enhance corrosion protection, topcoats are engineered to emphasize UV protection, thus limiting their ability to achieve optimum adhesion.
Clearcoats
Clearcoats aid directly in the prevention of corrosion by functioning as an extra protective barrier against salt penetration. Additionally, clearcoats tend to rinse and clean more easily than color coats, which, due to the presence of pigmentation in the film, feature a rough surface that can trap and hold dirt and salt residue. Since clearcoats have smooth surface profiles, rain is effective in removing external contaminants from their surfaces.
Clearcoats are mandatory over metallic flake-containing paint systems because they prevent the aluminum flake from tarnishing and discoloring, but they can also be layered over solid and mica coatings to enhance UV protection.
Panels finished with clearcoats placed in south Florida testing farms have demonstrated virtually no change in chalking or color fade after 35 years of continuous weather exposure. Clearcoats eliminate chalking because they do not contain pigments. Pigments lose their chemical bond with coatings film during exposure to UV light. This is the primary condition leading to the formation of chalk.
One-coat systems
Single-layer powder and liquid coatings are becoming popular for less-rigorous AAMA 2604 architectural and building-product applications, where they frequently displace two-coat, 50-percent polyvinylidene fluoride (PVDF) coatings that have dominated this performance category for more than
50 years.
UV-durable fluoropolymer coatings are less susceptible to film erosion than standard polyester- and acrylic-based ones because they have powerful molecular bonds limiting film loss to less than 10 percent every 20 years. One-coat liquid and powder coatings for aluminum extrusions began entering the building market in the early 2000s to lower cost and meet environmental mandates.
While most applications were limited at first to residential and light building projects, architects eventually began to specify them for monumental buildings requiring compliance with AAMA 2604 and 2605 standards for weathering and corrosion resistance.
One-coat liquid products are also marketed for aluminum applications in the coil industry. Typically applied as clearcoats or tinted clearcoats over natural or brushed aluminum surfaces, one-coat liquid finishes accentuate the metallic appearance of aluminum and provide an anodized look to the coated part.
While one-coat liquid and powder systems are viable for normal building environments, they can be susceptible to premature corrosion in coastal environments when not applied over a robust base primer or if they are not manufactured under the proper operating conditions.
Other methods to reduce corrosion
Even in Florida, where rainfall contributes substantially to removing salt residue from building surfaces, fresh-water flushing is recommended for eaves, overhangs, and other metal building components not regularly exposed to weather. Countless cases of pitting and corrosion on metal building surfaces have been documented, with many failures traced to the release of sulfur gas from sealants and gaskets that have not been rinsed regularly. For this reason, coating manufacturer warranties typically recommend freshwater rinsing on a regular basis to keep such areas free from salt build-up. (For additional recommendations on keeping buildings free of corrosive materials, reference AAMA 609 and 610-15, Cleaning and Maintenance Guide for Architecturally Finished Aluminum.) Recommendations vary by location—once a year to as many as six times a year based on the salt concentration.
Conclusion
Legacy coating systems have demonstrated their ability to last more than 50 years on landmark buildings, and in harsh industrial and seacoast environments, since their introduction in the 1960s. Despite their proven effectiveness, there is a growing demand in the United States to eliminate harmful ingredients such as hexavalent chrome, trivalent chrome, and chrome primers from legacy coatings systems. Abolishing some or all these materials may have an adverse effect on long-term corrosion resistance and raise overall cost.
In the future, it will be important for pretreatment chemical and coatings companies to innovate and improve corrosion resistance with new alternative materials. Over the months and years ahead, it is likely new technologies will emerge, setting new standards of performance.
Scott Moffatt is market manager, building products for the coil, extrusion, and wood groups within PPG Industries. He has 40 years of experience within PPG's industrial organization in various sales, marketing, and management functions covering multiple technologies and sectors. Moffatt's current position involves getting PPG specified with architectural firms, glazing companies, and applicators. He can be reached at moffatt@ppg.com.