Country's first wood skyscraper coming to Portland
by Carly Midgley | June 23, 2017 2:31 pm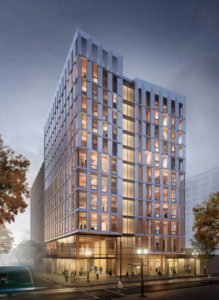 Earlier this month, Framework Project LLC[2] announced the State of Oregon[3] and City of Portland[4] had awarded it approval to build the United States' first wood high-rise building. Framework will stand 12 stories on completion, and will incorporate mass timber materials including cross-laminated timber (CLT) and glue-laminated timber (glulam). Its construction will begin in the fall and be completed by the following winter. (To read more about the project, see the article[5] in the February 2017 issue of The Construction Specifier.)
"Receiving a permit is a critical juncture for Framework and demonstrates the feasibility of using wood to build high-rise buildings in the U.S.," said Anyeley Hallova, a developer with project^[6]. "With our path now clear to start building, Framework will start to unlock the demand for mass timber products at all scales, justifying new investment into rural manufacturing and job creation."
Job creation is predicted to be one of the effects of Framework's completion, given the fact its construction may lay the groundwork for more mass timber projects in the future. An upcoming Oregon Built Environment & Sustainable Technologies[7] (BEST) study also estimates labor income from mass timber manufacturing could range from $338 million to $1 billion per year in Oregon, along with creating 5800 to 17,300 direct, indirect, and induced jobs.
"The Framework project is literally a laboratory for the revival of building with mass timber—an investment for which Oregonians will be grateful for many generations to come," said Valerie Johnson, president of the project's CLT manufacturer. "The rural-urban divide in Oregon has existed too long. We hope our young people [in Douglas County] will now grow up believing there's a future for them doing this type of work. It's inspiring for all of us to know that all together we are providing a more environmentally friendly, lower-carbon-emitting, renewable, and sustainable product for mass timber construction in urban areas."
Testing completed last year[8] indicates other benefits of building with mass timber as well, such as the material's ability to exceed fire and life safety code requirements. Portland State University[9] and Oregon State University[10] also completed seismic tests on Framework's primary beam-to-beam connection and CLT shear wall panels, to confirm the building's ability to exceed life safety requirements. In the event of a major earthquake, the structure should suffer only minimal damage.
"Projects like the Framework building present a new opportunity for Oregon that we are perfectly suited to take on. Oregon's forests are a tried-and-true resource that may again be the key to economic stability for rural Oregon, expanding opportunity for communities hit hard by the decline of the natural resource economy," said Kate Brown, governor of Oregon. "The Framework building shows that we can use sustainably harvested timber in a sustainable way to act as a catalyst for economic development through the creation of timber and manufacturing jobs in rural economies."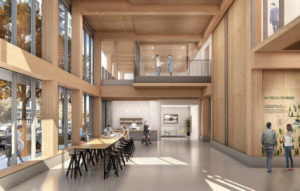 The building will be the country's first high-rise wood building, as well as its tallest mass timber building. Further, it will be the tallest post-tensioned rocking wall project in the world. It will contain office, retail, and affordable housing space, as well as dedicating some space to a tall wood exhibit.
"Portland is built on creative innovation and the trailblazing spirit as exemplified by the groundbreaking work of the Framework Project," said Ted Wheeler, the city's mayor. "Thanks to the tremendous work of the Framework team, Portland's Pearl District will proudly stand as the site of the first skyscraper made from wood in the United States—a true technological and entrepreneurial achievement."
Endnotes:
[Image]: https://www.constructionspecifier.com/wp-content/uploads/2017/06/Framework-00.jpg
Framework Project LLC: http://framework-llc.com/about-framework-llc/
State of Oregon: http://www.oregon.gov/pages/index.aspx
City of Portland: https://www.portlandoregon.gov/
the article: https://www.constructionspecifier.com/cross-laminated-timber-new-projects-show-how-the-material-is-fulfilling-tall-orders/
project^: http://www.projectpdx.com/
Oregon Built Environment & Sustainable Technologies: http://oregonbest.org/
Testing completed last year: https://www.constructionspecifier.com/fire-test-results-support-mass-timber-high-rise-construction/
Portland State University: https://www.pdx.edu/
Oregon State University: http://oregonstate.edu/
[Image]: https://www.constructionspecifier.com/wp-content/uploads/2017/06/Framework-01.jpg
Source URL: https://www.constructionspecifier.com/countrys-first-wood-skyscraper-coming-to-portland/
---