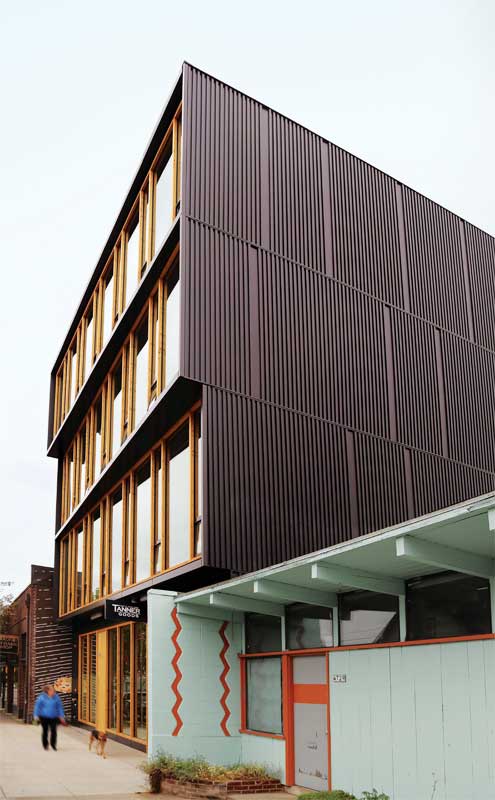 by Kenneth E. Bland, PE
Modern-day technologies and product delivery methods have created a bold new opportunity for wood products, which in turn has given rise to a new category of structural framing systems using mass timber. The possibility of tall wood buildings represents the first significant challenge to concrete and steel structures since their inception in high-rise building design more than a century ago. Cross-laminated timber (CLT) is among the products helping drive this trend.
CLT is a prefabricated engineered wood product made by gluing layers of solid-sawn lumber or structural composite lumber. Each layer can consist of one or more laminations of wood overlaid in perpendicular fashion. This cross-lamination provides dimensional stability, strength, and durability equal to or greater than competing materials in many applications. Size varies by manufacturer, but panels typically include three, five, or seven layers; they rarely exceed 508 mm (20 in.) in thickness.
CLT can be connected in various ways in wall-to-foundation, wall-to-wall (straight or junction), floor-to-floor, wall-to-floor, and wall-to-roof applications. Panels may be connected to each other with half-lapped joints or splines made from engineered wood products to construct large surfaces of CLT. Metal brackets, hold-downs, and plates are often used to transfer forces between horizontal and vertical diaphragms.
Using CLT in combination with other mass timber elements—such as glued-laminated timbers (glulam) and structural composite lumber (SCL)—offers several advantages, including use of a renewable resource, greater environmental performance, cost-effectiveness, reusability, and aesthetics. However, one of the biggest advantages is improved speed and efficiency of installation, given the panels can be prefabricated offsite according to the end-use application, with pre-cut openings for windows, doors, stairs, service channels, and ducts. On arrival from the manufacturing facility, the panels are ready for quick installation, shaving weeks or even months off the construction schedule.
Additionally, CLT meets stringent fire and seismic building code requirements. (For more on the topic, see this author's previous article for The Construction Specifier [September 2016], "Updating Code-conforming Wood Designs." It can be read online by visiting www.constructionspecifier.com/updating-code-conforming-wood-designs.) As with heavy timber, CLT chars at a slow and predictable rate, maintaining strength longer and giving occupants more time to exit the building. Structures using CLT for wall and floor assemblies also tend not to have as many concealed spaces within the floor and wall assemblies, further reducing the risk a fire will spread unnoticed.
When seismic performance is considered, CLT structures with fasteners designed in yielding mode offer many of the same favorable characteristics
as lightweight wood-frame construction. Yielding fasteners offer ductility, helping absorb energy from seismic ground motions and distributing forces throughout the seismic-resisting system.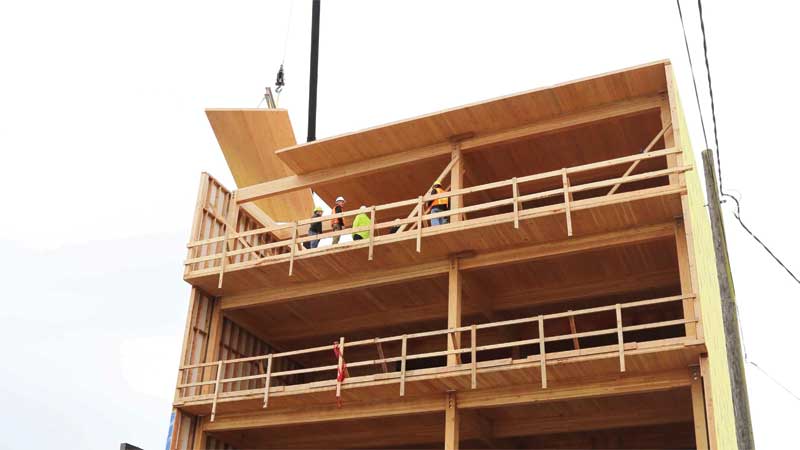 State of the art: Recent CLT projects
Spanning from Oregon to Massachusetts, several U.S. projects are already harnessing the potential of CLT. These projects are not only demonstrating what is 'permissible' when using wood, but also what is 'possible.'
Albina Yard
Designed by LEVER Architecture and engineered by KPFF Consulting Engineers, Albina Yard (Portland, Oregon) is the first structure in the United States to use domestically fabricated mass timber for a building-wide structural system. From the beginning, the design and construction teams collaborated closely on digital fabrication to improve the efficiency of construction while minimizing wasted building materials and maximizing the speed of onsite panel erection. Completed in early fall of 2016, the 1485-m2 (16,000-sf) creative office/retail mixed-use building utilizes a glulam frame with CLT structural panels.
Framework
Another Portland project designed by LEVER Architecture, Framework is the West Coast winner of the U.S. Tall Wood Building Prize Competition, which was funded in part by the U.S. Department of Agriculture (USDA), Softwood Lumber Board, and the Binational Softwood Lumber Council to support the research and development of tall wood demonstration projects in the United States.
Set to be the tallest mass timber structure in the country, Framework is a 12-story mixed-use building featuring a unique CLT lateral-force-resisting system with CLT floors and glulam beams and columns. It will be the first post-tensioned rocking CLT wall system in the United States, and the tallest post-tensioned rocking wall project in the world.
Framework is well on its way to demonstrating the full potential of CLT. Last fall, LEVER successfully demonstrated a mass timber assembly using CLT and glulam members can pass code-required fire-resistive testing for structures of the same height and number of stories. The project team also conducted tests on local CLT in Oregon to confirm the feasibility of locally sourcing wood, fulfilling the USDA grant mission to leverage CLT to propel rural economies. In December, the team completed structural testing to determine the stress-strain properties of the CLT wall panels to be used in the project. It is now beginning testing of the floor assembly to confirm the acoustic performance.