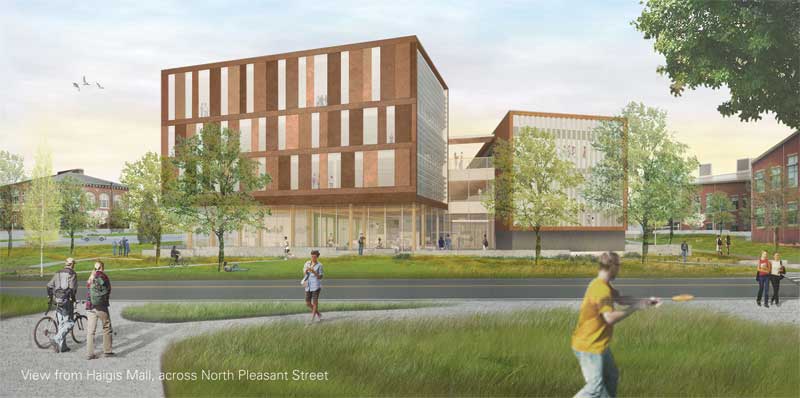 Continuing the momentum
Mass timber solutions incorporating CLT have the potential to revolutionize the built environment and address major challenges related to climate change, rapid urbanization, and the need for sustainable development. However, current building codes only allow combustible construction to be used in a range of low- to mid-rise residential and non-residential buildings up to six stories tall, based on the use of the building.
The International Code Council's (ICC's) Tall Wood Building Ad-hoc Committee, established in 2016, has met several times and heard from designers about their choice of mass timber for projects, including the aforementioned Framework project. That building's architects and engineers provided a summary of the structural and fire testing underway to support their building permit approval.
Additional research, testing, and demonstration projects are needed to help CLT gain broader acceptance in the United States. The American Wood Council (AWC) is helping educate code officials, industry professionals, and municipal and federal legislative and regulatory bodies through performance-based research and guidelines showing how mass timber can safely and efficiently meet or exceed the minimum requirements set by building codes and standards.
Legislators in both chambers of Congress and across the aisle have recognized the wide-ranging benefits of increasing wood use, particularly in tall building applications. Last Congress, the Timber Innovation Act (S. 2892/H.R. 5628) was introduced in the U.S. Senate and House of Representatives. It aims to promote mass timber research and technical assistance to state, local, university, and private sector educators and architects to help familiarize them with the possibilities of building with this material, which, in turn, would provide many benefits to the U.S. economy and environment. As there is a new Congress every two years, these bills will have to be reintroduced in 2017 in order to make headway.
With greater awareness around the impact of the building industry than ever before, organizations and professionals across the board have a reason to explore the use of CLT and mass timber as a solution to lessen the nation's carbon footprint while expanding the possibilities of wood construction and supporting rural economies where timber is sustainably harvested.
Kenneth E. Bland, PE, serves as the vice president of codes and regulations for the American Wood Council (AWC). Prior to joining AWC in 1988, he served in building code administration and enforcement. Bland is a member of the Society of Fire Protection Engineers (SFPE), the past chair of the International Code Council's (ICC's) Industry Advisory Committee, and part of numerous standards development committees in various capacities. He holds a bachelor's degree in architectural engineering in structures from Pennsylvania State University, a master's of science in fire protection engineering from Worcester Polytechnic Institute, and is a licensed professional engineer. He can be reached via e-mail at kbland@awc.org.