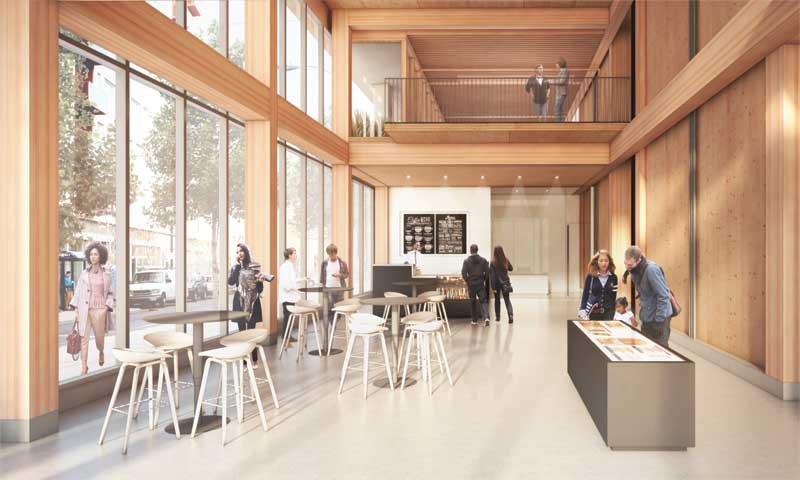 UMass Design Building
Designed collaboratively by Leers Weinzapfel Associates and Equilibrium Consulting, the new four-story, 8100-m2 (87,200-sf) University of Massachusetts Amherst (UMass) Design Building is informed by the school's current research in building technology. It features an exposed glulam timber post and beam structural system with CLT shear wall cores and roof decking. A CLT zipper truss spans the building commons space at the second level. Construction is estimated to be completed in early 2017. The design is targeting Gold certification under the Leadership in Energy and Environmental Design (LEED) program.
The new facility will house the university's multidisciplinary design program—fostering collaboration across architecture, building technology, landscape architecture, and regional planning—and will serve as a highly visible demonstration of sustainable design practice and leading-edge timber engineering. Other sustainable features include automated lighting, an energy-efficient ventilation system, low-flow faucets, nearby access to alternative transportation, and bioswales integrated into the exterior landscaping around the building.
CLT modular classrooms
Another example of CLT application can be seen in Washington state, where five school districts are participating in a $5.5 million pilot program to incorporate CLT modular construction in K−3 elementary classrooms. From both an economic and environmental standpoint, supporters are increasingly interested in growing the CLT industry in Washington, believing it will create local jobs, and make it profitable to thin forests, reducing the danger of wildfires. The CLT used in these projects will likely come from the millions of 'beetle-killed' fir and pine trees that pose a huge forest fire risk and are already marked for removal. (For a deeper look at possibilities with beetle-killed wood, see the October 2014 edition of The Construction Specifier for "Seeing the Urban Forests for the Trees: Secondary benefits of our cities' wood" by J. Gerard Capell, FCSI, AIA, CCS.
Visit www.constructionspecifier.com/seeing-the-urban-forests-for-the-trees-secondary-benefits-of-our-cities-wood-2.)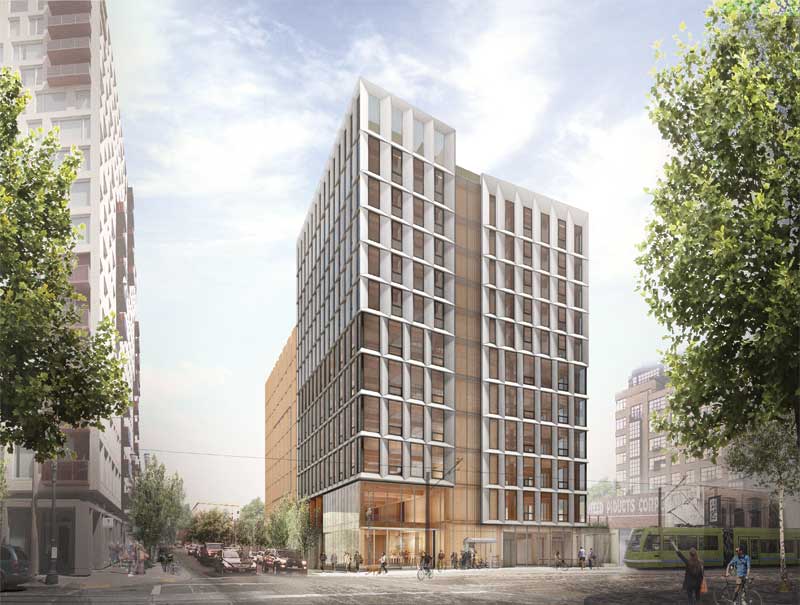 Resources available
There are many resources available to those who are interested in learning more about CLT and mass timber. The 2015 National Design Specification (NDS) for Wood Construction added a new chapter with design provisions for CLT. (For more on NDS [along with other codes and standards, including the International Building Code (IBC)], see our web-exclusive four-part series, "What the 2015 International Building Code Means for Wood Construction" by Buddy Showalter, PE. Part 1 begins with www.constructionspecifier.com/what-the-2015-international-building-code-means-for-wood-construction-part-i.) CLT-specific changes reflected in the 2015 NDS include:
general connection provisions revised to accommodate CLT in Chapter 12 ("Dowel-type Fasteners");
new sections applicable for wood screw and nail withdrawal from end grain of CLT;
new sections to address determination of dowel bearing strengths for fasteners installed in CLT; and
new placement provisions for fasteners and lag screws.
The applicable product-manufacturing standard for CLT is American National Standards Institute/APA−The Engineered Wood Association (ANSI/APA) Performance-rated Glulam (PRG) 320, Standard for Performance-rated Cross-laminated Timber. Applicable design values can be obtained from manufacturers' literature or code evaluation reports.
Further, growing numbers of design firms are conducting their own research. Skidmore, Owings & Merrill (SOM), for instance, initiated the Timber Tower Research Project in 2013 to explore the feasibility of a high-rise mass timber structure that would reduce the embodied carbon footprint of buildings by 60 to 75 percent compared to a concrete building. Its successful test of the final, full-scale specimen last summer demonstrated a timber-concrete composite system can satisfy code requirements and compete with traditional construction methods.
Similarly, CallistonRTKL produced a feasibility study of a 40-story mass-timber residential tower in downtown Seattle.  (For more on the Seattle mass-timber tower, see the online article by Amir Lotfi, "How Feasible is a 40-story Mass Timber Residential Tower?" at www.constructionspecifier.com/mass-timber-feasibility. Also, visit www.rethinkwood.com/sites/default/files/Seattle-Mass-Timber-Tower-Research-August-2016.pdf.) Work was done to explore the financial, regulatory, and constructability implications of using mass timber technology, particularly CLT, in tall buildings in the 30- to 40-story range.