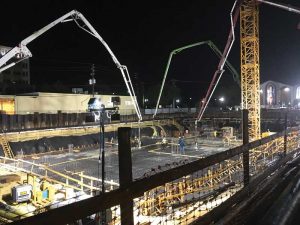 Tower 155
This 14-story mixed condominium complex in Boca Raton, Florida, features 170 luxury residential units with one, two, or three bedrooms, as well as two-story townhomes and penthouse units. Along with its rooftop spa and in-ground swimming pool, Tower 155 also features two levels of below ground parking.
Located near the water, the area's high water table meant foundation waterproofing was essential. Designers considered a membrane system, but rejected it due to space constraints and the difficult installation it would require. By choosing an integrated crystalline waterproofing admixture as its waterproofing system, the builders saved an estimated 28 days on the construction schedule.
The crystalline admix was included in the post-tensioned slabs, foundation walls, 130-m2 (1400-sf) swimming pool and spa fountain. A total of 5199 m3 (6800 cy) of crystalline admixture-treated concrete was used in Tower 155 structures. The complex required a matt foundation constructed 6 m (20 ft) below grade and measuring 40,413 m2 (435,000 sf) with concrete ranging in depth from 1067 mm (42 in.) to 2 m (6 ft).
According to the lead architect Derek Vander Ploeg, of Vander Ploeg and Associates, "Despite the use of cold joints in the slab and walls due to the amount
of concrete used and many separate pours, there is not a leak anywhere."
Columbia College
Columbia College is the oldest university transfer college in Vancouver, British Columbia, Canada. The main campus is housed in a five-story, 6782-m2 (73,000-sf) building just east of Vancouver's downtown core at 438 Terminal Avenue. The building has a one-level, below-grade parking garage falling just above sea level from the nearby False Creek Inlet. Due to the local climate and high-water table, the structure was subject to ongoing groundwater and below-grade hydrostatic pressure. To waterproof the foundation slab, walls, and elevator pit, without the uncertainty and extra labor of membranes or coatings, the project designers selected a crystalline admixture to add to the 500 m3 (17,657 cf) of ready-mix concrete that was required for the project. The crystalline admixture was introduced at a two per cent dosage (based on the total weight of the cementitious ingredients).
Crystalline waterproofing patching material and coating products were used in combination with a polyvinyl chloride (PVC) waterstop to permanently seal the joints where exterior walls landed on the slab. Additionally, crystalline waterproofing admix was also used as a modified grout to ensure a well-consolidated wall/slab interface. Once completed, all walls and joints in the foundation structure were dry and free of leaks.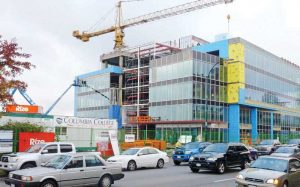 Other applications
Crystalline waterproofing admix is also used by precast concrete producers to add value and enhance the performance of concrete pipes, manholes, septic tanks, and architectural panels. Apart from waterproofing these products, crystalline technology enhances chemical resistance and reduces shrinkage cracking, thus prolonging service life. Since it is sold in powder form, crystalline waterproofing can also be included in the mix design for bagged cement products such as shotcrete, mortar mixes, and stuccos.
The effectiveness of crystalline waterproofing technology can be limited by the concrete mix design. As the active chemicals in crystalline waterproofing react with by-products of cement hydration, there needs to be a certain amount of Portland cement or reactive cementitious materials (e.g. slag cement) in a concrete mix design. Additionally, the porosity of the concrete should also be taken into consideration, and this will be directly related to the water/cement ratio of the concrete. As a general rule, crystalline waterproofing is effective in concrete mix designs where the compressive strength is 20,684 kPa (3000 psi) or greater and a maximum water/cement ratio of 0.65.
Conclusion
Although concrete may appear to be a simple product to manufacture, it requires a highly engineered approach. In today's design and construction environment, where more stringent requirements, such as longer life cycles, more durable concrete, and value-engineering concepts are expected, careful consideration must be paid to not only the basic requirements, such as the water/cement ratio and materials, but also to more sophisticated chemical admixtures. With its ability to reduce the porosity and permeability of conventional concrete, crystalline waterproofing technology is a valuable addition to building sciences.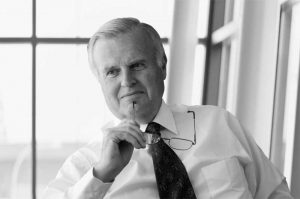 David Ross is the technical services director for Xypex Chemical Corp. of Vancouver, British Columbia, Canada. Xypex is a manufacturer of crystalline waterproofing materials. He can be reached at dave@xypex.com.