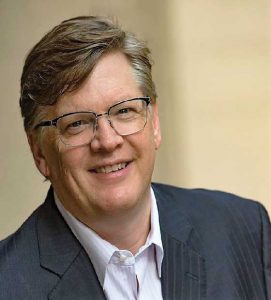 TO BE SPECIFIC
by Mark N. Dorsey, FASAE, CAE
In the early months of 2020, I and many others thought we would soon be returning to a more normal life at home and work with COVID-19 in our rear-view mirror. Instead, COVID continues to impact us for the foreseeable future.
Each day brings new and seemingly insurmountable challenges, yet you and your colleagues persevere and support each other.
As your professional association, CSI continues to support you in every endeavor, and with the vision that it is a center for innovation, elevates your profession, and creates a stronger community.
Here are four of the primary ways we support this vision and you:
keeping you connected;
enlarging professional development and certification opportunities;
supporting chapters; and
providing standards and technological leadership.
Keeping you connected
CSI-Connect, the COVID-19 Response Team hosted by CSI Fellows, online study groups, and discussion forums—available at www.csiresources.org—are all designed to connect you to peers who can help you navigate personal and professional challenges.
At a national level, we are working closely with chapters to help them adapt to the virtual world to keep you connected locally.
The CSI Foundation identified an opportunity to empower the next generation of builders given that only 10 percent of those employed in this industry are women.
The foundation teamed up with the Greater Lehigh Valley Chapter and the Let's Build Construction Camp for Girls to support this opportunity.
Through your donations—via www.csiresources.org/institute/foundation—and continued support, the foundation sponsored the program this year. It is also developing tools to show other chapters how to create such programs in their own backyards, thereby connecting you to the next generation of builders.
Professional development and certification
CSI stakeholders are contributing to free and low-cost content through the CSI Learning Library (visit www.csiresources.org/learning/library) to enable your professional development as well as support CSI learning units for certification renewal.
Recently, CSI launched the Specs 101 series with new content, such as the updated project delivery practice guide and study workbooks for certification, which makes earning CSI learning units easier for you.
Even more individualized study aids are in the pipeline. Instructors can combine them with existing resources to better prepare others for exams.
Learning domains for the Certified Construction Specifier (CCS), Certified Construction Contract Administrator (CCCA), and Construction Documents Technologist (CDT) exams were updated this past year. CCS and CCCA exams were relaunched, and the Certified Construction Product Representative (CCPR) credential is being retooled.
To make access to exams easier, lowest cost pricing was extended, exam windows were modified, and new options have been implemented to take exams at home or at "COVID-safe" testing centers. Additionally, we created new digital badging to promote your credentials. All of these innovations are designed to help you expand, prove, and promote your knowledge and skill.
Connecting you and chapters
Slowly, but surely, we will come together again face to face, and the best place to do that will be at CSI chapter events. Dynamic chapters are at the heart of CSI.
The CSI board of directors enabled us to fund staff, training, and resources to support more in the way of virtual events—and face-to-face ones when we can all come back together—in order to refocus the entire organization—national, regions, and chapters—and to give you the value and network you deserve.
Standards and technological leadership
Standards and formats built by CSI members have been at the core of this organization for decades. Releasing MasterFormat 2020 as a book does not go quite far enough. That is why, on behalf of CSI members and the whole architecture, engineering, contractor, and owner (AECO) community, we created Crosswalk, a new and dynamic tool for efficient, effective sharing of information based on the organizing principles of MasterFormat, Uniformat, and OmniClass.
Crosswalk (www.crosswalk.biz) is the future state of what our CSI forebears imagined; the global electronic Rosetta Stone of construction information made possible because of CSI's unique position as a nonprofit association with a mission to serve our profession and industry.
Also, Crosswalk—the digital transmission of CSI standards and formats into design and construction software—is only the beginning.
Work is already underway to connect product information so the entire project team can be more effective, manage risk better, and work efficiently on
a global scale.
Crosswalk is a big step toward combating the pervasive myth that the field of construction specifications is old and irrelevant because it underscores that we are more focused on creating our future than preserving the past.
CSI can lead the way in revamping the image of the AECO industry to attract young talent and those who are changing professions by promoting the things that link us to the innovation sector: design thinking, cross-functional teams, individual empowerment, and an emphasis on learning and deploying the latest technologies.
This innovation gives us a seat at the table with decision-makers as a resonant and future-facing association in the AECO space.
More to the point, we are in competition with the technology sector and Wall Street for the best and brightest professionals because the building trades are seen as old school—beset by a lack of diversity and often low job security because of the cyclical nature of the industry.
CSI can and must do its part to help this industry embrace technology, the very tools that will drive communication, efficiency, productivity, safety, and the ability to hire the best emerging professionals.
Your lives and your work are changing. You deserve a professional society that is doing more than keeping pace with these changes. You deserve a CSI that is proactively leading the way.
As CSI's CEO, and on behalf of the entire CSI staff, it is a privilege to serve you and CSI's mission. I look forward to working alongside you to march ahead in the new year.
Mark N. Dorsey, FASAE, CAE, is the CEO of the Construction Specifications Institute. He can be reached at mdorsey@csinet.org.