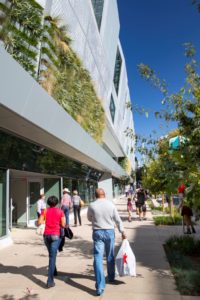 In addition to the facility's impressive bifold doors, the Golden 1 Center—the Sacramento Kings' new basketball arena—has another claim to fame in its seven living walls. Furthering the project's overall goal of sustainability and commitment to the natural landscape, these plant-covered assemblies serve to incorporate elements of nature within the structure.
"We wanted a proven, tried-and-true system with well-engineered components that could scale up," said James Haig Streeter, landscape design lead at AECOM, which designed the walls. "It was important for the green wall design to provide adequate soil depth and volume to protect the plants and keep the walls from drying out in the heat of summer."
To support these efforts, the 18 varieties of plants used in the living walls are all native to the area or similar enough to native species that they introduce no supplemental irrigation requirements. Those that flower do so in purple, reflecting the colors of the home team.
"The inspired idea was to make the building look as if it rests on the green wall, grounding the arena on the landscape and extending the landscape from the plaza up to the walls of the arena itself," said Haig Streeter. "As people come up to the arena, it appears to emerge from the landscape. They see vibrant bands of green that changes, as different sections utilize different plants based on the varying patterns of sun and shade around the building."
When all seven sections are totaled up, 5400 plants are counted across the walls' 445-m2 (4800-sf) expanse. The plants are housed in proprietary modular planters, which attach to an aluminum rail and mounting track system in turn attached to the structural wall.
"Unlike any other arena, the beautiful Golden 1 Center is the catalyst for the region, built on the foundation of the city's ideals and values—a purposeful effort to think about our environment and resources and profoundly impact the economy in Sacramento and beyond," said Chris Granger, president of the Sacramento Kings. "The entire project is a model of sustainability. Our green walls are a prominent feature of the arena and represent the fulfillment of our vision."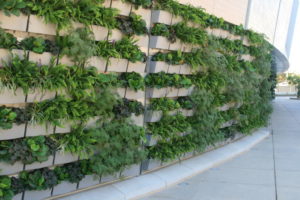 For a case study on the center's living walls, see the video below.