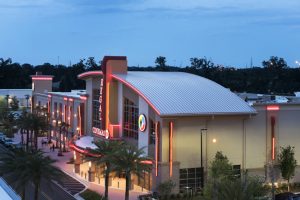 Residents of Gainesville, Florida, are looking forward to the arrival of Celebration Pointe, a new, mixed-use development that will span 65 ha (160 acre) and more than 92,903 m2 (1 million sf) of retail, office, and residential floor space. The 10-screen Regal Cinemas movie theater became an anchor in the development, and the sweeping metal roof over its entrance helps it stand out among the surrounding stores and restaurants.
Architects with the RLS Design Group of Birmingham, Alabama, wanted to ensure the sense of arrival the roof creates had no interruptions, so they specified 576 m2 (6200 sf) of metal panels fabricated and installed as continuous curves. Working with the resulting 49-m (160-ft) panel lengths, made of 24-gauge steel finished in sierra tan, proved demanding for installers with Gainesville-based Perry Roofing, but they lived up to the challenge.
"The metal portion was not big, but obviously, in complexity it was pretty significant," said Austin King, Perry Roofing's senior estimator on the project. He notes his firm called on the expertise of ANCO Roofing Systems of Fort Myers, Florida, to form the panels' curves. A little creativity also was required when it came to getting the formed panels up to the roof.
"We had to make an engineered assembly that pretty closely mimicked the same arc as the panels," King said. "It was a [61-m] 200-ft piece of rigging. We ended up taking up one or two panels at a time. It is not something we had used before and have not used since."
While an adjacent parking lot gave the Perry crew room for staging the panels and rigging, the installation effort impacted the work others were doing to get the theater ready for moviegoers.
"It shut down other trades," King said, noting landscapers had to undo some of the work they had already done to allow clearance for the crane and rigging. "They had to pull up some of the palm trees they had already planted."