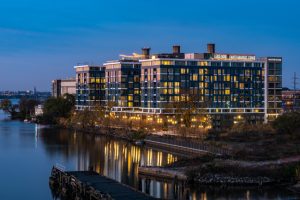 Watermark, a mixed-use development in Washington, D.C., has been awarded Leadership in Energy and Environmental Design (LEED) Gold certification by the U.S. Green Building Council (USGBC).
The 453-unit, 11-story building's recognition as a LEED-certified project showcases the design, construction, and development team's commitment to sustainability and human health.
"We are honored Watermark has been recognized as a LEED-certified building, as we placed great weight into the environmental impact of this project and how to best foster the health of its occupants," said Nicholas Pantuliano, COO at real estate firm PTM Partners. "LEED is a transformative tool that is revolutionizing our built environment and allowing projects like Watermark to become socially responsible spaces to live, work, and play."
Watermark achieved LEED Gold certification for implementing practical and measurable strategies and solutions and for earning high scores in the following areas:
sustainable sites;
water efficiency;
energy & atmosphere;
materials & resources;
indoor environmental quality;
innovation & design; and
location & transportation.
"Achieving LEED certification is more than just implementing sustainable practices. It represents a commitment to making the world a better place and influencing others to do better," said Mahesh Ramanujam, USGBC president. "Given the extraordinary importance of climate protection and the central role buildings play in that effort, Watermark is creating a path forward through its LEED certification."