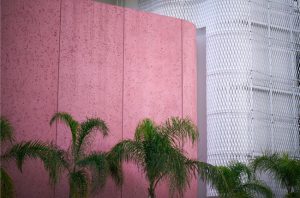 Ghanian-British architect Sir David Adjaye has designed a pink concrete oasis for luxury retailer Webster's newest location in West Hollywood, Los Angeles, California.
Adjaye collaborated with the Webster's founder and creative director Laure Heriard Dubreuil to create the flagship store which expresses a tough, yet gentle concept. The geometrical composition stands out even in the hectic traffic circles of Los Angeles.
The Webster Los Angles is a part of the Beverly Center. The 1022-m2 (11,000-sf) brick and mortar has become the seventh location for the company and Adjaye's first project in California.
The architectural composition begins with a curved massing of concrete on the exterior of the store, creating a covered entrance. Welcoming visitors is an oasis featuring a column-less portico wrapped by a tranquil water fountain. Seating area surrounds the outside, establishing a welcoming gathering space.
The lower part of the pink-stained concrete walls has a smooth finish and a rough texture can be observed on the upper region. The flooring is made up of gray concrete with scraps of dark cherry marble. Delicate bronze clothing racks and mirrors were used to elevate the image throughout the store.
Adjaye also designed a sequence of nooks that are equipped with lights to act as a digital display which will stage artworks at a deliberately muted resolution.