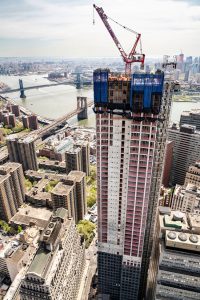 A new luxury high-rise, designed by architect Sir David Adjaye, has topped out in New York City. The 66-story tower rises more than 244 m (800 ft) to the sky and makes a bold architectural statement and is a unique addition to Manhattan's skyline.
"In defining the design for 130 William, I sought to celebrate New York City's heritage of masonry architecture, referencing the historical architecture once pervasive upon one of the city's earliest streets," said Sir David Adjaye. "130 William evokes the past, but it also has a forward-looking design, which explores the new possibilities of urban, vertical living."
In collaboration with architect Hill West, Adjaye was inspired to craft a building that pushes away from the typical commercial feel of glass, and instead, embraces the city's history of classic stonework and lofts that once populated Lower Manhattan.
The building's exterior features a custom hand-cast façade with rhythmic, large-scale arched windows and bronze detailing.
The tower has 242 residences, ranging from studio to up to four bedrooms. The residences incorporate interior finishes made of materials sourced from around the world, and are framed by oversized bronze arched windows. Wide-plank white oak flooring underfoot enhances warmth throughout the suites.