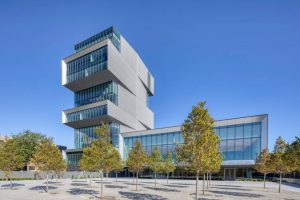 The David Rubenstein Forum project at the University of Chicago was the first-place winner in the commercial walls category at the ATAS 2020 Project of the Year competition.
The building utilized 5574 m2 (60,000 sf) of custom Versa-Lok and custom fabricated wall panels manufactured by ATAS in 1.0 mm (0.039 in.) grey zinc.
The panels were used as exterior wall cladding on the 51 m (166 ft) tall building consisting of 10 stories. They were installed by Tuschall Engineering of Burr Ridge, Illinois, and the architects for the project included Diller Scofidio + Renfro of New York City, and Brininstool + Lynch of Chicago.
The David Rubenstein Forum, which opened in September 2020, is located on Chicago's Midway Plaisance, and offers views of downtown Chicago, Lake Michigan, and the university campus. The architects' vision was to create a retreat space, which would allow for both formal presentations and casual meetings. The building has an auditorium, various meeting spaces, a dining room, and an elevated wine bar and cafe. The University Room, which is the building's largest room, seats more than 600 people theater-style.
This project also won two awards earlier this month. ATAS International was the grand-prize winner of the Metal in Architecture Awards, which was presented at METALCON in Tampa, Florida, on October 7. A panel of judges comprised of Metal Construction Association (MCA) council chairs and other metal construction and design industry experts determined the winners.