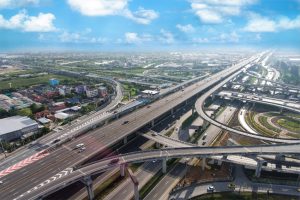 Design and construction organizations are calling on Congress to include funding in the infrastructure bill that would enhance the resilience of the country's buildings.
"Buildings are a critical part of our nation's infrastructure," said American Institute of Architects (AIA) CEO Robert Ivy, FAIA. "Not just airports, train stations, and utility facilities, but also the schools where our children learn; the civic centers and hospitals where we receive essential services; and the homes where we live. The vast majority of these places are far more vulnerable to natural and manmade disasters than is acceptable."
"We must take urgent action to fix these problems and be visionary about how we design and build new construction to withstand threats for decades to come," Ivy said. "As we are seeing already, climate change is expected to fuel another above-average year for wildfires, droughts, hurricanes, and other severe weather. The time to act is now."
In a letter issued to Congress, the signatories emphasized disaster costs are staggering and preventable. According to the National Oceanic and Atmospheric Administration (NOAA) National Centers for Environmental Information, between 2014 and 2019, major weather- and climate-related disasters killed nearly 4000 people and caused more than $550 billion in damage. Yet with new investments to support forward-thinking planning, design, and construction, the building industry can be a leader in saving lives and reducing costs.
Organizations co-signing the letter have also released the Resilience Building Coalition's progress report, "Preparing to Thrive," outlining steps the organizations have taken in research, education, planning, advocacy, and disaster response since signing the Building Industry Statement on Resilience. These activities have bolstered community resilience before, during and after disasters, and emphasize the critical need to do so across racial, ethnic, and socioeconomic divisions, AIA said in a press release.
The industry letter signatories include:
Alliance for National & Community Resilience (ANCR);
American Council of Engineering Companies (ACEC);
AIA;
American Institute of Building Design (AIBD);
American Society of Interior Designers (ASID);
American Society of Heating, Refrigerating and Air-conditioning Engineers (ASHRAE);
Associated Builders and Contractors (ABC);
Association for Materials Protection and Performance (AMPP);
Building Owners and Managers Association (BOMA);
Congress for the New Urbanism (CNU);
Ethylene propylene diene monomer (EPDM) Roofing Association;
Flood Mitigation Industry Association (FMIA);
Green Building Initiative (GBI);
Insurance Institute for Business & Home Safety (IBHS);
International Code Council (ICC);
International Institute of Building Enclosure Consultants (IIBEC);
National Ready Mixed Concrete Association (NRMCA);
National Society of Professional Engineers (NSPE);
Royal Institution of Chartered Surveyors (RICS);
U.S. Green Building Council (USGBC); and
U.S. Resiliency Council (USRC).